Do you know what WeatherWizard is?
WeatherWizard is a tremendously suspicious potentially unwanted program (PUP) that is introduced by weatther wizard. We would not be surprised to see the name of this publisher change, as the PUP itself is completely unpredictable. This program does not even have an official website, which makes it extremely suspicious. If you cannot access official information, as well as legal information associated with a program you are interested in, who are you supposed to trust it? Well, the truth is that this program is untrustworthy, and the information about it is hidden to conceal that fact from you. Why did you install this unreliable program onto your own computer in the first place? Was it because of the promises given? Maybe this program was installed without your permission at all? Whatever the case, we strongly recommend removing WeatherWizard as soon as possible.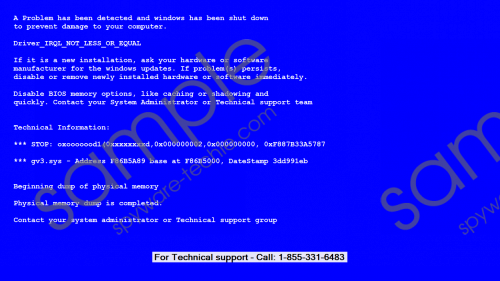 WeatherWizard screenshot
Scroll down for full removal instructions
The suspicious WeatherWizard does provide authentic weather forecasts, but only if you live in the US. This PUP uses wunderground.com to provide reliable data. Unfortunately, this is where the usefulness of this program ends. The files that this potentially unwanted program installs to the %WinDir% directory are set to collect information about your hardware, as well as to display a fake BSOD message. This message is meant to trick you into thinking that your PC has been shut down to prevent some kind of damage. In reality, your computer cannot be shut down by this potentially unwanted program. Instead, a window taking up the entire screen appears creating the illusion of a real BSOD. Here are a few excerpts from the misleading message that you should pay no attention to.
A problem has been detected and windows has been shut down to prevent damage to your computer.
Driver_IRQL_NOT_LESS_OR_EQUAL

Technical Information:
*** STOP: oXooooood1 (0xxxxxxxxd, 0x000000002, 0x000000000, 0xF887B33A5787
*** gv3.sys – Address F86B5A89 base at F86B5000, DateStamp 3dd991eb

Contact your system administrator or Technical support group
For Technical support – Call: 1-855-331-6483
The number provided (1-855-331-6483) will not connect you to technical support. It is most likely that this number will be used to scam you and trick you into making big payments. It is not stated that this number is toll-free, but even if this statement was made, you should not trust it. In the worst case scenario, you will contact a mischievous cyber criminal who will trick you into paying for useless services or downloading malicious programs, and that is very risky. Even if you do not follow the demands presented, WeatherWizard will collect information and download updates from simplemediaplayer.com. The files that are responsible for this activity include amdave64Win.exe, winLoad32.exe, SysFix.exe, SysFix1.exe, winupd.exe, MyTrayApp.exe, bs.exe, bs1.exe, and win.exe. According to our research, these files should not be bigger than 50Kb, and they all remain active after you uninstall the PUP. Needless to say, if you do not delete these files, the fake BDOS message will keep appearing even after you close it by pressing Alt+F4 simultaneously on your keyboard.
You must delete WeatherWizard from your operating system as soon as possible. This PUP might show trustworthy weather reports, but it is malicious in nature, and it was designed to scam you. If you have contacted the fake helpline already, make sure that you act accordingly to what has come out of it. If you have downloaded unfamiliar software, delete it right away. If you have shared private information, protect it. If you have made a transaction, inform your bank about the scam. As mentioned previously, the removal of the PUP itself is not extremely straightforward because of the leftovers. After you uninstall this program from your operating system, you have to eliminate the leftover components. You can follow the instructions below to eliminate this PUP successfully and fully. However, if other threats are active, we advise employing anti-malware software to ensure that all threats are erased simultaneously.
Delete WeatherWizard from Windows
Windows 10/Windows 8.1/Windows 8
Tap Win+R on your keyboard to launch the RUN dialog box.
Enter Control Panel and click OK.
Move to the Uninstall a program menu.
Right-click on the undesirable application and select Uninstall.
Windows 7/Windows Vista
Click the Windows/Start menu icon on the Taskbar.
Open the Control Panel and move to the Uninstall a program menu.
Identify the program you wish to eliminate and right-click it.
Click the Uninstall button.
Windows XP
Open the Start menu from the Taskbar.
Double-click Add or Remove Programs and find the PUP.
Select the unwanted program and click the Remove button.
Leftovers
Launch Explorer by tapping Win+E buttons on the keyboard.
Type %WinDir% into the address bar and tap Enter.
Right-click and Delete these malicious files:

amdave64Win.exe
sc.bat
SysFix.exe
SysFix1.exe
winLoad32.exe
winupd.exe
MyTrayApp.exe
bs.exe
bs1.exe
win.exe
In non-techie terms:
We strongly advise deleting WeatherWizard because it is a potentially unwanted program whose beneficial services hide potentially malicious activity. Although this program is capable of showing the weather forecast as it promises to, we have found that it also spies on users and introduces them to a fake BSOD message rushing them to call a fake helpline. On top of that, this PUP is likely to run on your operating system along with other malicious infections. A reliable anti-malware tool can protect your PC and ensure that all malicious threats are removed simultaneously. Use this software, or, if you proceed with manual removal, make sure you eliminate every malicious component manually.