Do you know what WeatherBlink Toolbar is?
Chrome, Firefox, and Internet Explorer users can download WeatherBlink Toolbar from a website that was built by its developer (Mindspark Interactive Network) – weatherblink.com. Chrome users can also acquire it from chrome.google.com/webstore/detail/weatherblink/fdfbfflhpgdmhemficnjidglfliigejm on the Chrome web store. Unfortunately, it appears that many users let this PUP (potentially unwanted program) as they interact with unreliable bundled installers and misleading pop-ups. Because of this, it is likely that these users download the PUP along with other potentially malicious pieces. Even if you think that nothing malicious exists on your operating system, we suggest installing a reliable malware scanner right now to perform a quick test. Hopefully, other threats do not exist, but if you find that you need to delete WeatherBlink Toolbar along with other unreliable or unwanted programs, do not hesitate to do it. If you want to communicate with our research team and discuss the PUP and its removal beyond this report, use the comments section.
If you download WeatherBlink Toolbar onto Mozilla Firefox or Internet Explorer, you agree to have your homepage modified along with the New Tab. If you download it onto Google Chrome, you see changes made to the New Tab only. The toolbar is represented in both cases in the same way, and it looks like a glorified search engine with links to popular sites available from the home page. The search field, undoubtedly, is the main feature of WeatherBlink Toolbar despite it being presented as a weather app. The "enhanced by Google" tag attached to it is meant to make users trust it more, but that would be a mistake. When you enter a search keyword, you are routed to search.myway.com, and this search engine can deliver sponsored links and advertisements that, we are sure, you do not want to see. The Privacy Policy of the PUP informs that cookies can be used to deliver personalized ads, and this might be the top reason to delete it from your PC.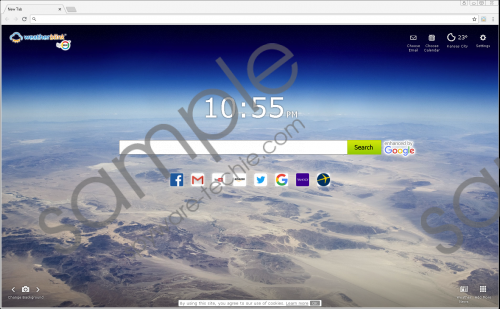 WeatherBlink Toolbar screenshot
Scroll down for full removal instructions
It appears that the creator of WeatherBlink Toolbar might have partnered up with wunderground.com because most buttons – Hurricane Tracker, Local Weather, Detailed Forecast, and Radar – lead to this website. Additional links presented on the home page route to accuweather.com, pollen.com, tunein.com, and facebook.com. You also have easy-access links presented below the search field, and they route to Gmail, Twitter, Amazon, and many other popular sites. Our research team has analyzed many other apps created by Mindspark (e.g., FreePDFCombiner Toolbar or ShoppingDealsLive Toolbar), and they all promote popular sites. Even though the links are legitimate, it is likely that they are used to distract users from unreliable search services, as well as the activity of intrusive web cookies. Overall, although the toolbar cannot install malware, hijack your accounts, sell personal information, or encrypt data, it is not entirely harmless, and it is best if you remove it from your operating system and browsers.
Before you remove WeatherBlink Toolbar, you must scan your system to check if this PUP is the only thing you need to think about. If other threats exist, use the search box at the top to find removal guides for these threats. You can use the guide below to get rid of the PUP. What if you discover threats you simply cannot tame on your own? If that is the case, anti-malware software is the instrument we recommend using. In fact, we suggest installing it to help you keep your system malware-free in the future anyway, so you might as well install it now. Hopefully, you can get back to normal in no time.
Delete WeatherBlink Toolbar
N.B. If you want to erase cookies that belong to the PUP, we also suggest clearing browsing data.
Google Chrome
Launch Chrome and tap keys Alt+F.
Go to More tools and click Extensions.
Remove the unwanted add-on.
Tap Ctrl+Shift+Delete.
Select the time range and mark the boxes.
Click Clear Data.
Mozilla Firefox
Launch Firefox and tap keys Ctrl+Shift+A.
In the Add-ons Manager menu Remove the unwanted add-on.
Tap Ctrl+Shift+Delete.
Select the time range and mark the boxes.
Click Clear Now.
Internet Explorer
Launch RUN (tap Win+R) and enter control panel.
Navigate to the Uninstall a program menu.
Select the unwanted application and then click Uninstall.
Launch Internet Explorer and tap Ctrl+Shift+A.
Mark desirable boxes and then click Delete.
In non-techie terms:
Even though WeatherBlink Toolbar is not a highly malicious threat, it is known that it uses web cookies to track its users and that it can use recorded information to deliver advertisements as search results. The search feature is not reliable because an unreliable search tool is used to deliver results. On top of that, the program is not very useful because it simply promotes links to useful websites. These are the reasons we advise removing WeatherBlink Toolbar from your web browsers (Chrome or Firefox) and the operating system (Internet Explorer). Use the guides below if you wish to take on the task manually, or install anti-malware software if you are dealing with multiple threats and you care to have your virtual security protected in the future.