Do you know what Wallet Ransomware is?
Wallet Ransomware is a group of malicious infections that can enter your computer via spam email attachments. The program is based on a notorious ransomware infection, and there are several versions that might enter your computer unexpectedly. No matter which version will encrypt your files, it is necessary to remove Wallet Ransomware and everything associated with it from your system. In this description, we will tell you more about this program, and how it is possible to avoid similar infections. After all, your computer's security should be one of your top priorities because it extends to your personal security, too.
First, let us discuss the potential distribution methods that can be used by this infection. The program probably arrives at your computer within a spam email attachment. Although these days most of the spam email messages get filtered into the Junk folder, but the spam campaigns that distribute ransomware impersonate messages from online shopping malls, banks, and other financial institutions. Thus the mail you receive may look like an invoice or some account report, urging you to open the attachment. Please note that usually official messages from such companies do not carry attachments. Most of the information is presented within the message text itself because responsible companies understand the potential risks behind email attachments.
What if you need to open a particular attachment no matter what, but you are not sure if it is safe to do so? Then you can scan that attachment with a reliable computer security tool that will tell you whether the file is safe or not. It is always better to be safe than sorry.
Wallet Ransomware and all of its versions are rather generic, and all of them function in the similar pattern. Seeing how all these programs are based on the CrySIS Ransomware engine, they should also work in a similar pattern. What's more, all the programs that come under the Wallet Ransomware name share similar ransom messages, and their reserve emails also have the same domain: either @india.com or @asia.com.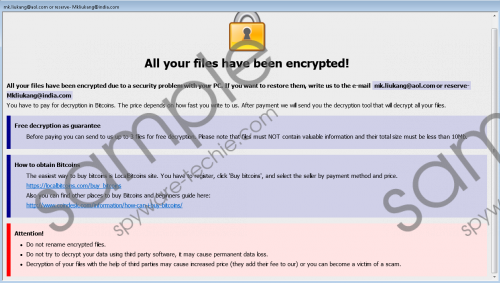 Wallet Ransomware screenshot
Scroll down for full removal instructions
Why do ransomware programs have reserve email addresses? Usually, the server connection between the infected computer and the criminal command and control center is provided by a proxy server. No one can guarantee how long these proxy servers will work. So when the first email address fails (when the server goes down), you get to use the reserve email address to contact the criminals who infected you with Wallet Ransomware. However, who can guarantee that the second email address would not fail, too? In a sense, it is possible to see why you should not pay a single cent to this ransomware infection.
Aside from being based on the CrySIS Ransomware engine, Wallet Ransomware also seems to be really similar to Ecovector3@aol.com Ransomware, Vegclass@aol.com Ransomware, Alex.vlasov@aol.com Ransomware, Meldonii@india.com Ransomware, and many others. Unfortunately, unlike with browser hijackers coming from the same infection family does not mean that you can apply the same removal methods to all the members of the group. Likewise, if there was a decryption tool for any of the aforementioned ransomware programs, it cannot be applied to Wallet Ransomware. And, judging from the data provided by our resource team, currently, there is no public tool for this specific application, too.
The silver lining of this situation is that ransomware programs do not try to hide their presence. Wallet Ransomware will change your desktop's background, and all of the encrypted files will have a new extension. For example, it might turn into something like Mozilla Firefox.lnk[mk.liukang@aol.com].wallet. Please note that the extensions will vary from one program to the other, but you can be sure that you will no longer be able to open the affected files.
Since there is no decryption tool available, you should delete the infected files, remove Wallet Ransomware from your computer, and then transfer healthy files into your hard drive from a system backup. This is why security experts always maintain how important it is to save copies of your files in other storage systems because you can never know when your computer would crash or when it would be infected with a serious malware program.
To be absolutely sure that you have terminated every single malicious file, scan your computer with the SpyHunter free scanner. Relying on a legitimate security tool is always a good choice.
How to delete Wallet Ransomware
Press Win+R and the Run prompt will open.
Type %AppData% into the Open box. Click OK.
Navigate to Microsoft\Windows\Start Menu\Programs\Startup.
Remove an EXE file with a random filename.
Press Win+R again and enter %WINDIR%. Press OK.
Go to the Syswow64 folder and delete the EXE file.
Open the System32 folder in the same directory.
Remove the EXE file and press Win+R again.
Navigate to HKEY_CURRENT_USER\Control Panel\Desktop.
On the right pane, right-click the Wallpaper value and modify it. Press OK.
Navigate to HKEY_CURRENT_USER\SOFTWARE\Microsoft\Windows\CurrentVersion\Explorer\Wallpapers.
On the right pane, right-click the BackgroundHistoryPath0 value. Change it and press OK.
Go to HKEY_LOCAL_MACHINE\SOFTWARE\Microsoft\Windows\CurrentVersion\Run.
On the right-side, right-click and change these values:
%WINDIR%\Syswow64\[random name].exe
%WINDIR%\System32\[random name].exe
In non-techie terms:
Wallet Ransomware is not your average browser hijacker application one can remove without any difficulty. It is a dangerous program that scrambles your files and you can no longer access them. It is true that you have to remove Wallet Ransomware for good, but you should not pay anything to the people behind this infection. Protect your PC from similar threats and be sure to remain attentive when you browse the web.