Do you know what Wal Ransomware is?
Wal Ransomware is a threat that opens a window called decryptdocs@protonmail.com. It contains instructions on how to contact the malware's developers and pay a ransom in exchange for decryption tools that could restore a user's enciphered data. As usual, we do not recommend putting up with any demands if you do not want to put your savings at risk. The hackers may not bother keeping up to their end of the deal even if you do as told. Of course, it is something only you can decide, but before you do we recommend reading our full report to learn more about the malicious application. Also, our computer security specialists advise deleting Wal Ransomware because it can launch itself automatically upon each system restart and start encrypting data. No doubt, such behavior could affect all files that you could create, receive, or download in the future. To prevent it, you could eliminate the threat with the removal guide available below or a chosen antimalware tool.
In many cases, threats like Wal Ransomware are spread through Spam emails that carry malicious files or links. In such situations, users who open received material without taking extra precautions first end up infecting their systems. The worst part is that victims may not even realize it. As you see, malicious installers can be disguised as text documents, pictures, and other files that look harmless. Such data can carry malicious scripts that may initiate the malware's installation, but for the victim, it might seem as if nothing is happening, which could lead to an assumption that the file was damaged or that some error occurred. Therefore, even if attachments look harmless, it is crucial not to open them if they were received via Spam and from unknown senders or if they raise suspicion. First, you should scan them with a reputable antimalware tool that could tell you if such data is malicious or not.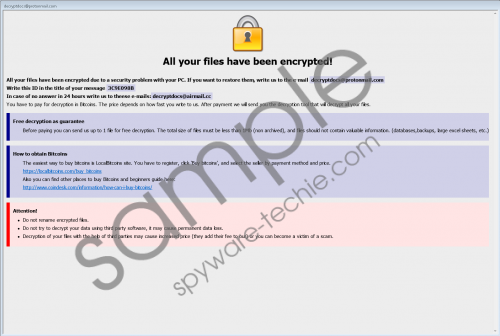 Wal Ransomware screenshot
Scroll down for full removal instructions
Like other similar ransomware applications, Wal Ransomware should firstly install itself by dropping files in the directories listed below in the removal guide available below. Next, it should start encrypting each targeted file with a robust encryption algorithm. During this process, your pictures, photos, and other personal data should become unreadable and they ought to be marked with a second extension consisting of three parts: unique ID number, hackers' email address, and the .wal extension. For instance, in our case, a file named flowers.jpg became flowers.jpg.id-3C9E095C.[decryptdocs@protonmail.com].wal after it got enciphered. Next, the threat ought to open a window we talked about at the beginning of this article. It explains how to contact the hackers behind Wal Ransomware and get further instructions on how to pay a ransom and receive decryption software. Naturally, there are no guarantees they will deliver such tools even if you pay and if you do not want to risk losing your money we advise against it.
Lastly, we recommend removing Wal Ransomware since leaving it installed could put your future files in danger. You could try to erase the malicious application manually, although you should keep in mind that the task may not be easy even if you follow the removal guide available below carefully. Provided, it appears to be too complicated, we encourage you to employ a reliable antimalware tool with no hesitation.
Erase Wal Ransomware
Press Ctrl+Alt+Delete.
Choose Task Manager and go to the Processes tab.
Locate a process belonging to the malware.
Choose the threat's process and click End Task.
Exit Task Manager.
Click Windows Key+E.
Navigate to the suggested paths:
%TEMP%
%USERPROFILE%Desktop
%USERPROFILE%Downloads
Identify a file launched at the time the system got infected, right-click the malicious file, and select Delete.
Find these particular paths:
%APPDATA%\Microsoft\Windows\Start Menu\Programs\Startup
%ALLUSERSPROFILE%\Microsoft\Windows\Start Menu\Programs\Startup
%ALLUSERSPROFILE%\Application Data\Microsoft\Windows\Start Menu\Programs\Startup
%WINDIR%\System32
Find copies of the malware's launcher (the title could be random), right-click them and select Delete.
Navigate to these paths:
%APPDATA%\Microsoft\Windows\Start Menu\Programs\Startup
%ALLUSERSPROFILE%\Microsoft\Windows\Start Menu\Programs\Startup
%ALLUSERSPROFILE%\Application Data\Microsoft\Windows\Start Menu\Programs\Startup
%WINDIR%\System32
%APPDATA%
Look for documents called Info.hta, right-click them and choose Delete.
Exit File Explorer.
Press Windows Key+R, insert Regedit and choose OK.
Navigate to this path: HKCU\Software\Microsoft\Windows\CurrentVersion\Run
Look for value names that could be related to the malicious application.
Right-click such value names and press Delete.
Close the Registry Editor.
Empty Recycle bin.
Restart the computer.
In non-techie terms:
Wal Ransomware is a threat that could be encountered by users who are too careless when it comes to opening data downloaded or received via the Internet. As you see, its launcher could be disguised as a picture or any other file, and it might be sent to targeted victims with Spam emails. If you receive it, the malware should encipher all of your personal data with a secure cryptosystem. Consequently, affected files ought to become unrecognizable to your computer and so you should no longer be able to open them. As a solution, the malicious application's developers suggest paying a ransom and promise to deliver decryption software that could restore all locked files. No doubt, there is a chance you could get tricked by the cybercriminals and, in such a case, would lose not only your data but also your money. If you do not want to take any risks, we recommend erasing Wal Ransomware. This you can do either by following our removal guide placed above this paragraph or with the help of a reputable antimalware tool.