Do you know what VOPackage is?
VOPackage is an adware application that can download more unwanted programs onto your computer. You most probably downloaded and installed VOPackage together with VuuPC. ClickMeln Limited publishes both programs, so it is of no surprise that they often travel together. VuuPC is a remote desktop client, and it helps users to keep connected to their computers and mobile devices remotely. Nevertheless, this program and all of its components might be related to certain computer security risks. Hence, you should remove at least VOPackage from your computer if you do not want to be swarmed with adware.
The main homepage for VuuPC is located at vuupc.com. Our guys at research team say that VOPackage usually comes bundled with VuuPC because they have the same publisher. However, that does not mean that all users who complain about this adware application have downloaded it from the remote desktop client's homepage. It is a lot more probable that users downloaded VOPackage bundled with freeware (and VuuPC) from third-party websites. Freeware applications are often available for download at third-party file hosting web pages. When users download freeware at such sites, they seldom take into consideration the fact that the setup file might have some additional programs as well.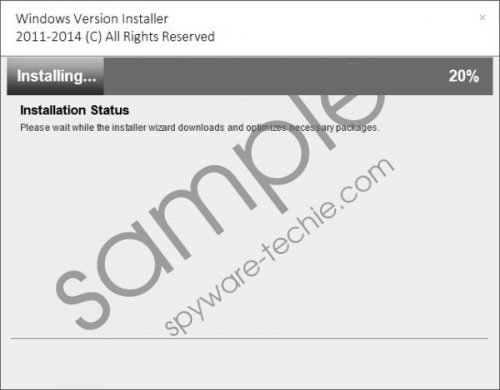 VOPackage screenshot
Scroll down for full removal instructions
When VOPackage enters your computer, it creates a folder at C:\Users\user\AppData\Roaming\VOPackage. It connects to the internet immediately to keep itself updated and download more adware onto your computer. Needless to say, that such behavior is highly annoying and potentially dangerous. You can never know who will make use of VOPackage to promote their products. Do not be surprised to be flooded with various commercial advertisements or shopping coupons. After all, ad-supported software needs to survive somehow, so it displays commercial ads. By clicking them, you land on an affiliate website that increases its traffic and thus generates financial profit.
Technically, it is not an illegal activity, but adware programs are highly vulnerable to third-party exploitation. Therefore, if you do not want to be exposed to potentially corrupted content, you will remove VOPackage immediately. It is not hard to terminate this program manually because it comes with an entry on the list of installed programs.
After manual removal, you should scan your computer with SpyHunter free scanner. If you downloaded and installed VOPackage from a third-party file hosting page, it is very likely that you have more unwanted programs on your computer. To be sure that your PC is safe and clean, you should invest in a powerful antimalware tool and scan your system regularly.
Manual VOPackage Removal
Windows 8
Slide mouse cursor to the bottom right of your screen.
When Charm bar appears, click Settings and select Control Panel.
Go to Uninstall a program and remove Installer with VuuPC.
Windows Vista & Windows 7
Open Start menu and go to Control Panel.
Click Uninstall a program and remove Installer and VuuPC.
Windows XP
Press Windows key and go to Control Panel.
Open Add or remove programs and uninstall installer and VuuPC.
If something does not go as planned, you may also want to try out another set of instructions below this description. Do not forget that we are always ready to answer your questions, so do not hesitate to leave us a comment.
In non-techie terms:
VOPackage is a potentially unwanted program that can download adware applications onto your PC. It is necessary to remove such applications from your system as soon as possible, before the situation falls out of hand.