Do you know what Volunteercentre.org is?
If you find Volunteercentre.org in your browsers upon performing a web search, you should know that your computer may have been attacked by a browser hijacker. This potentially unreliable search engine can only appear as your new default search engine in the three main browsers, Google Chrome, Mozilla Firefox, and Internet Explorer, if you have downloaded and installed a malicious software bundle recently. It is quite likely that this package contained several malware threats. So when you notice this search engine, you should know that your virtual world may be under multiple malware attacks. You should not trust the content of this search page for a moment, let alone its search results. If you do not want to end up on malicious websites and infect your computer with more threats, we suggest that you remove Volunteercentre.org immediately and perform a full-system malware scan to identify all other potentially harmful applications as well.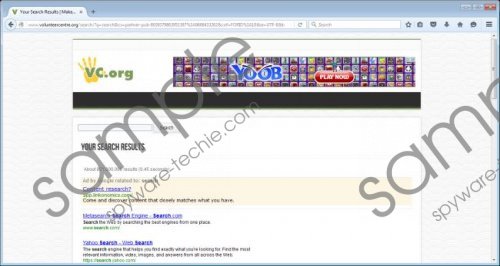 Volunteercentre.org screenshot
Scroll down for full removal instructions
According to our researchers, who examined this search engine in our internal lab, the most likely way for this search page to turn up in your browsers is when Searchinterneat-a.akamaihd.net, a browser hijacker, penetrates your computer. This hijacker promotes this search engine and sets it as your default search provider in all three major browsers. This browser hijacker redirects searches based on your region; Volunteercentre.org seems to be spread mainly in Poland, Algeria, Pakistan, Egypt, and other various smaller countries. These threats most commonly spread over the web in freeware bundles containing malicious software installers. We have found that, for example, Results Hub may also travel in this bundle, which is a well-known adware application. But there can be other browser hijackers, adware apps, and potentially unwanted programs, too.
Therefore, you should be very careful while searching the web for free stuff, including music, movies, games, tools, and software. This is what usually lands unsuspecting computer users on unfamiliar and questionable file-sharing websites that host a number of unsafe and misleading third-party advertisements. Clicking on any of such content may result in your downloading a whole package of "nasties." What most users may not know or may overlook is that usually there is a step in the installation wizard where you are offered a chance to opt out of certain components of the bundle. However, if you fail to do so, the whole package will be installed by default. And, obviously, this is the purpose of the schemers behind these malicious installers. If you have experienced annoying third-party ads and unwanted browser setting changes lately, we advise you to delete Volunteercentre.org right away and run a malware scanner to detect all other threats on board.
This search engine page looks like a legitimate volunteering blog that has a customized Google search tool. However, the articles on this page may simply be based on genuine websites and blogs to provide legitimate-looking content, which will provide a link to the original article in the end. But this page hosts a couple of potentially unreliable third-party commercial advertisements as well that may be risky to click on. What's more, we have realized that even the search results could be manipulated by this questionable search engine. Although, you may think that you are viewing a trustworthy and reputable Google search results page, you should not forget that this is a customized page that may contain potentially harmful third-party ads and sponsored links as well injected by this search engine. What's more, the Volunteercentre.org header with a third-party ad will always be there as another potential risk. If you click on any of these risky ads and links, do not be surprised to land on suspicious websites. Since this visit to malicious pages run by cyber criminals can end in a number of bad ways, you should never click on any content that can be associated with this search engine page. As a matter of fact, you should not trust third-party ads on any reputable websites either since you computer may also be infected with adware, which can hijack otherwise legitimate advertisements. All in all, we believe that you should not hesitate to remove Volunteercentre.org from your computer. The questionable reliability of this search engine is only confirmed by the fact that it does not reveal any legal documents about itself and its creators. So are you read to act?
Our researchers say that the easiest way to get rid of this threat is by resetting all your browsers. If you do not know how to do this, please use our instructions below. If you desire proper protection for your PC to feel safe in your virtual world, we suggest that you find and install a reputable malware removal application. But, even if your computer is well-protected, you should always keep all your drivers and programs updated. However, make sure that you only update these through official and reputable sources because cyber criminals like to fool users by fake software and driver updaters. Remember, one single click on the wrong button or ad could cause more security issues than you can possibly handle yourself.
Volunteercentre.org Removal from Browsers
Internet Explorer
Press Alt+T and go to Internet Options.
Choose the Advanced tab and press Reset.
Mark Delete personal settings and press Reset.
Click Close.
Mozilla Firefox
Press Alt+H and open Troubleshooting Information.
Click Refresh Firefox.
Press Refresh Firefox in the pop-up.
Click Finish.
Google Chrome
Press Alt+F and access Settings.
At the bottom, click Show advanced settings.
At the bottom, click Reset settings.
Click Reset.
In non-techie terms:
Volunteercentre.org is a questionable search engine that can show up in your browsers when a browser hijacker enters your computer. This search engine poses as a volunteering blog with a customized Google search tool. Our researchers have found that this search engine may display potentially unsafe third-party commercials as well as modified search results. Clicking on any content related to this search page could redirect you to malicious websites. Since the presence of this search engine indicates that there has to be a browser hijacker and adware applications on board, we suggest that you remove Volunteercentre.org as soon as possible along with all other related infections. If you do not want to hunt every threat down manually, you should install a reliable anti-malware tool that will also protect your PC from further attacks.