Do you know what Vista Antivirus 2014 is?
Vista Antivirus 2014 is a rogue anti-spyware application. This malicious application is extremely dangerous and should be removed immediately if found running on your system. Although it might look like a legitimate tool, it is nothing like that. Rogue anti-spyware programs are crafted by malware distributors in order to profit from unsuspecting users. Ironically a tool that should help your PC might actually cause it a lot of damage. Vista Antivirus 2014 is compatible with Windows 8, Windows 7, Windows Vista, and Windows XP. The only way to avoid infecting your PC with Vista Antivirus 2014 is to implement a powerful antimalware tool that will safeguard your system against it. Malware experts at Spyware-Techie.com have prepared a removal guide that will remove Vista Antivirus 2014 from your operating system entirely.
Usually applications like Vista Antivirus 2014 infiltrate the operating system in a silent way; thus you might not even realize when or how your PC was infected. In order to reduce the risk rate of infection, we advise you to avoid any dubious websites associated with online privacy or any third-party download websites.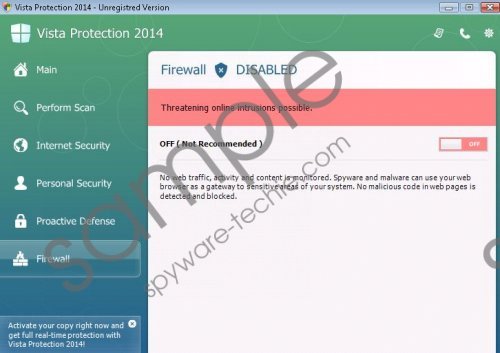 Vista Antivirus 2014 screenshot
Scroll down for full removal instructions
Once Vista Antivirus 2014 is up and running on your PC it will automatically start an alleged scan of your system. After the scan is finished, you will be displayed with a hoax list of infections that are present on your system. Do not trust Vista Antivirus 2014 at any cost. All the results provided by this fake antispyware program are bogus. If you try to fix these fake threats, you will be asked to pay money for a totally worthless process. Also by entering your bank account details you risk exposing that data to malware distributors. If you find Vista Antivirus 2014 running on your system delete it without hesitation.
What is even worse is that Vista Antivirus 2014 blocks the ability to use certain .exe files. For instances, as long as Vista Antivirus 2014 will be present on your system you will not be able to use Task Manager, Registry Editor, or any web browser. Vista Antivirus 2014 will limit the usage of your PC so much that it will become virtually unusable. Furthermore, applications like Vista Antivirus 2014 might also serve as a backdoor for other dangerous infections out there; you could also infect your system with a Trojan, rootkit, or a keylogger without even noticing it. These reasons should be enough to convince you to remove Vista Antivirus 2014 immediately.
If you will follow the removal guide carefully, you should not have any trouble removing Vista Antivirus 2014. It is important to realize that Vista Antivirus 2014 probably entered your operating system due to low system security that is why a professional antimalware tool should be operating on your PC at all times. It provides real-time security that is virtually unbreakable.
Remove Vista Antivirus 2014 from your PC
Restart your PC.
As the BIOS screen disappears tap the F8 key repeatedly.
Now using the arrow keys select Safe mode with Networking and tap Enter.
Now open your browser and go to www.spyware-techie.com/download-sph.
Download and install the professional antimalware tool.
Scan your system.
Now click Fix Threats to remove Vista Antivirus 2014.
In non-techie terms:
Removal of Vista Antivirus 2014 is extremely important if you wish to maintain a clean and secure system. Do not trust any rogue anti-spyware application as they are designed to trick you into paying money. Invest into a legitimate antimalware tool that will ensure overall security of your PC.