Do you know what Viktigt Din Webblaesaren Blev Blockerad is?
Viktigt Din Webblaesaren Blev Blockerad is another name of a fake alert message that freezes your browser and does not allow you to open any new tab or window. The fake notification is displayed on your browser (be it Mozilla Firefox, Google Chrome or Internet Explorer) if you live in Sweden and it has been designed to make you think that you have done something wrong and therefore your browser has been locked. Nevertheless, you can easily get rid of Viktigt Din Webblaesaren Blev Blockerad just by closing your browser.
At first it may seem rather threatening, considering that Viktigt Din Webblaesaren Blev Blockerad looks similar to a number of ransomware programs from Ukash virus group. However, this new wave of browser lockers cannot do anything to your computer, because there are no malware files present in your system. Such fake infections as Atencion Su Navegador Ha Sido Bloqueado Virus or Error.policeguardstate.org are only there to push you into transferring a particular amount of money via Ukash or PaySafeCard alternative payment systems to cyber criminals. Needless to say, that if you transfer 1000 SEK to the cyber criminals you will never get it back.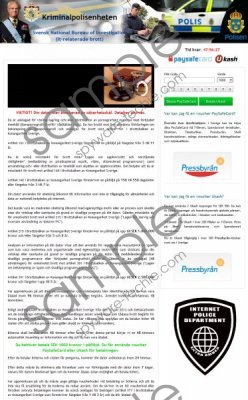 Viktigt Din Webblaesaren Blev Blockerad screenshot
Scroll down for full removal instructions
The most important thing you need to understand in this situation is that there is nothing real about Viktigt Din Webblaesaren Blev Blockerad. Even the notification it displays is nothing, but a scam:
VIKTIGT! Din webbläsaren blev blockerad av säkerhetsskäl. Detaljer ansivas.

Alla aktiviteter i den här datorn har registrerats.

Alla dina filer är krypterade.
Luckily, to avoid any monetary losses, you simply need to close your browser by click the X button and then pressing Leave the page option, when a pop-up window appears. Not all browsers are that easy to close, however, when you get redirected to a page with this malicious javascript. In such a case you need to make use of Windows Task Manager to end the browser's process.
How to end browser process
Press Ctrl+Shift+Esc and Windows Task Manager will open.
Click Processes tab.
Press Show processes from all users button under the processes list.
Right-click iexplore.exe, firefox.exe or chrome.exe.
Click End Process Tree option on the drop-down menu.
Click End Process button on the confirmation pop-up box.
Once you have your browser closed, make sure that it does not restore your previous session, because this way you would open the corrupted Viktigt Din Webblaesaren Blev Blockerad page again. Also, it would be wise to scan your computer with licensed antimalware application in search for any potential threats. This way you will be able to prevent dangerous malware applications from entering your computer.
In non-techie terms:
Viktigt Din Webblaesaren Blev Blockerad is a fake alert that belongs to a corrupted javascript which locks your browser on one infected web page. You need to close it immediately and then scan your computer to make sure that there are no dangerous programs installed.
Aliases: Viktigt Din Webblaesaren Virus.