Do you know what ViiperWaRe Ransomware is?
ViiperWaRe Ransomware is a malicious threat designed to lock user's data with a strong cryptosystem. However, our researchers revealed the malware is still in the development stage since some of its features do not work; not to mention, the cyber criminals behind it ask for a ridiculously huge ransom to be paid. Consequently, we do not think it should be widely distributed, but still, we will discuss its working manner and provide users with a removal guide just so our readers would know what to do if they happen to encounter ViiperWaRe Ransomware. As for the files, the malicious program encrypts, our specialists say there is a way to restore them if nothing changes. Thus, if you wish to learn how you could repair data damaged by this infection or find out other details about the ransomware we recommend reading our article.
If the malware is already being distributed it might be traveling with infected email attachments, malicious software installers or other questionable data that less careful users could download from the Internet. These two channels (Spam emails and unreliable file-sharing web pages) are still one of the most popular ones while distributing threats like ViiperWaRe Ransomware or other malware, so if you wish to keep your system safe and secure, we would advise you not to rush while downloading data from the Internet. Also, if files seem suspicious to you or you know they were downloaded from unreliable sources, it would be best to scan such data before opening it with, a reputable antimalware tool.
What should happen once the ViiperWaRe Ransomware's launcher is opened? For starters, it is important to mention the malicious application is not supposed to create any new files besides a single text document we will talk about later in the article. It means the threat runs right from the location its launcher was downloaded and opened. If this process is not stopped, the malware should lock user's data with the following extensions: .txt, .doc, .docx, .xls, .xlsx, .ppt, .pptx, .odt, .jpg, .png, .csv, .sql, .mdb, .sln, .php, .asp, .aspx, .html, .xml, .psd, .mp3, .dll, .cat, and .inf. What's more, after being encrypted the files could be marked with a specific .viiper extension, for example, presentation.pptx.viiper. Unfortunately, files marked this way should be no longer recognizable by the device, which means the user becomes unable to open them.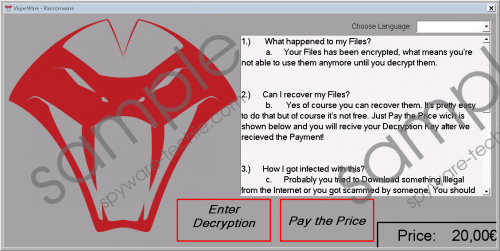 ViiperWaRe Ransomware screenshot
Scroll down for full removal instructions
The goal of creating threats like ViiperWaRe Ransomware is to extort money from users who encounter the infection and to ask for payment or in other words a ransom; the cyber criminals usually drop a text document containing the instructions. In this case, the malicious application creates a document called READ_IT.txt and additionally opens a window providing an even more detailed ransom note. According to what is written on the presented window, the user is supposed to pay €20,000. As we mentioned in the article, the sum is not realistic, and we doubt there would be any users willing to risk such an amount when there are no guarantees.
The truth is as long as ViiperWaRe Ransomware is still at the development stage, it is entirely possible its victims can unlock the encrypted data themselves. That is because the malicious application seems to save the encryption key you need for the decryption on the infected computer and not some secret server belonging to the malware's developers. Apparently, such a key might be saved on a file called decrpt.dll located in the %USERPROFILE%/Documents directory. To decrypt data users should open the mentioned file with Notepad, then copy the provided key and past it into the specific box on the malware's window. Afterward, we recommend eliminating the threat either manually while deleting data related to it one by one or with automatic features while performing a systems scan. If you would like to try the first option, but worry it could be too complicated for you we invite you to use the removal guide located just a bit below.
Erase ViiperWaRe Ransomware
Press Windows Key+E.
Go to %USERPROFILE%/Documents
Right-click a file called decrpt.dll and choose to open it with Notepad.
Copy the provided decryption key and paste it into the threat's window.
Wait till the files are decrypted.
Press Ctrl+Alt+Delete.
Choose Task Manager.
Go to the Processes tab and find a process belonging to the infection.
Select this process and click the End Task button.
Open File Explorer again.
Navigate to:
%USERPROFILE%Desktop
%USERPROFILE%Downloads
%TEMP%
Find the malware's launcher, right-click it and press Delete.
Erase the malicious application's ransom note.
Close the File Explorer.
Empty Recycle bin.
Restart the computer.
In non-techie terms:
ViiperWaRe Ransomware is another ransomware based on an open source ransomware called Hidden Tear. Same as many other similar applications the threat is capable of encrypting user's data, although while the infection is not yet updated there is a way to decrypt all of its damaged files on your own. Same as the manual deletion process, the decryption process is also explained in the removal guide located below this text, so if you wish to learn more about this malicious application, we encourage you to review full article. As for users who have more questions about the infection, we would like to remind you there is a comment section at the end of this page you could use; should you have some questions about the malware.