Do you know what View That Deal is?
View That Deal is a newborn adware program that tries to sell itself as a useful companion for you while shopping online. Showing you the best deals is what it offers, but that is mostly marketing blah-blah it seems. Our researchers have put this application under the microscope in our internal lab and found that this program is totally unreliable, including the questionable distribution method it may use to infect computers. If you have had adware infections before, you already know how annoying pop-up and other ads may be; blocking your view or redirecting you to unsafe websites on new tab pages if you accidentally click on them. Due to the potential risks this adware's presence may hold for you and your Windows operating system, we recommend that you remove View That Deal as soon as possible. Continue reading to learn more about this infection and to find out about the solution.
View That Deal could be tricky to find on the web unless you know the URL address, which is viewthatdeal.com. This webpage is rather simple, and we could also call it non-functioning when it comes to downloading the application. Instead of an installer, you get an error page – how disappointing. Yet, people get infected with this adware somehow. It is most likely that this adware spreads in freeware packages, and if so, these bundles may be packed with other malware "surprises" as well. It is rather unfortunate to install such a bundle since, in one go, you allow a whole bunch of infections onto your computer. Your operating system will not say "Thank you" most probably. It is possible that you have downloaded freeware lately and your source was not reliable enough. You might have clicked on a fake download button or a misleading third-party ad on a shareware site. That is how most users get their computers infected with malware. However, even if you download such a package, you can still opt out of unwanted components. But, unfortunately, most users tend to overlook this important step in the installation wizard.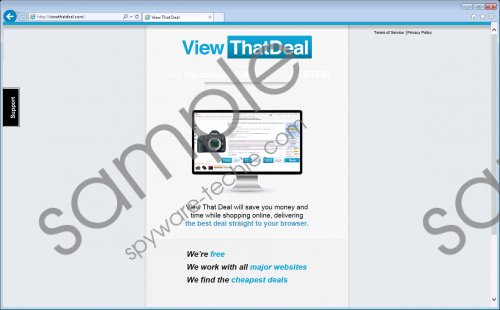 View That Deal screenshot
Scroll down for full removal instructions
View That Deal, like a lot of useless adware applications of its kind, claims that it provides you with the best deals that can "save you money and time." This phrase has been a wee bit overused in the past few years. This adware is good for one thing: To make money for its publisher. By every single click on the third-party ads it shows on your screen, the people behind this useless program will get paid, while you might even land on unsafe websites where you might get scammed, for example. If you do not want to risk the potential nightmare scenarios, you had better delete View That Deal right away.
Finally, we have some good news for you. You can easily get rid of View That Deal if you follow our guide below this article. Are you not an experienced computer user? Do not worry for a second, you can do it too; although, it is possible that you simply prefer automated solutions. So let us recommend you one. If you download and install a trustworthy antimalware application, you can automatically eliminate all infections known to man. Of course, you need to keep your security tool updated to make sure that you always have full protection.
How to remove View That Deal from Windows
Windows 8, Windows 8.1, and Windows 10
Tap Win+I and access Control Panel.
Select Uninstall a program.
Click on the program and press Uninstall.
Windows Vista and Windows 7
Open the Start menu and go to Control Panel.
Access Uninstall a program.
Click on the program and press Uninstall.
Windows XP
Press Win+R and enter Control Panel. Press OK.
Select Add or Remove Programs.
Click on the program and press Remove.
In non-techie terms:
View That Deal claims to be an application that can show you the best deals available on the web, but it is nothing more than a useless adware program. The third-party advertisements this adware keeps displaying may pose a threat since not all third parties are to be trusted. They might be cyber criminals who want to get hold of your personal details, for example. Clicking on corrupted ads may take you to malicious websites; therefore, we advise you to remove View That Deal ASAP. If you would like an automated solution, we recommend that you install a reliable antimalware application to protect your PC.