Do you know what Vidzy is?
Lots of people watch YouTube videos who would, most probably, like to have a browser extension like Vidzy. Unfortunately, we must tell you that it may be the wrong choice. As a matter of fact, if you already have this application on your computer, we would advise you to get rid of it. We have our reasons to say so. This extension has proved to be a potentially unwanted program (PUP), which means that it may not be a serious threat to your computer; however, it does show suspicious behavior that questions its reliability. That is why we would ask you to remove Vidzy if you do not want to risk any potential problems.
Vidzy is a product by Bitcocktail Ltd, which is supposed to be a YouTube video player that can be accessed from a bar it displays at the bottom of your browsers. However, it does not seem to be working at all. It could be due to some maintenance issue or worse. Nevertheless, it is not an inspiring aspect that would make you use it. We would rather say: Lose it, if you have it at all. Here is what the Privacy Policy says about this PUP: "Bitcocktail does not guarantee error-free performance." Well, how does this statement make you feel about an application that is not even trusted by its own developer?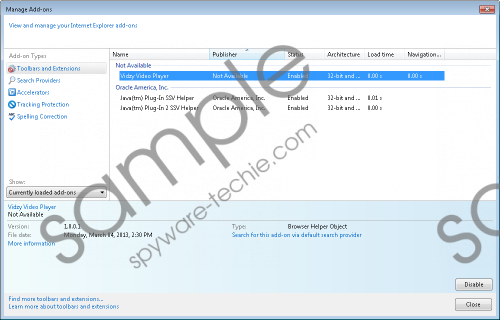 Vidzy screenshot
Scroll down for full removal instructions
But, even if it were a functioning extension, this PUP can collect information about you, including products you may be interested in, advertisements you as much as roll over with your mouse cursor, your IP address, and more. This, shared with third parties may result in customized ads. And those ads might result in landing on unreliable websites. It is like an avalanche, which starts with installing Vidzy. This is what the Privacy Policy also discloses: "we have no responsibility or liability for the content and activities of these linked sites." So, does this tell you to trust the websites where you will be redirected to by clicking on the ads? We do not think so, too. But the potential of being redirected to a malicious website will be there haunting you until you make a decision to delete Vidzy.
The next questionable thing about this PUP is how it is distributed. Of course, some users may find its website, which is vidzy.me, but most likely you will download it in a freeware bundle from a file-sharing website. This is a rather suspicious method since there may be bundles that are packed with a number of malware infections, such as adware programs and browser hijackers. Chances are that your browser settings have already been changed without your consent or you are annoyed by third-party ads every time you go surfing the web. Keeping Vidzy on your computer might end bad for you or your system. Are you ready to act?
We hope that you see now why it is better if you remove Vidzy from your computer. You can either go for manual or automated solutions. Even if you do not consider yourself a techie, you can easily get rid of this PUP if you use our guide below the article. Please remember that deleting this extension does not mean that your computer is completely safe. There may be other, more serious threats endangering your system's security right now. That is why we advise you to download and install a reputable antimalware program so that all the infections can be found and eliminated automatically. This security tool, if updated regularly, can give you full protection from infections.
Remove Vidzy from Windows
Windows XP
Open the Start menu and go to Control Panel.
Select Add or Remove Programs.
Click on the unwanted program and click Remove.
Windows Vista/Windows 7
Access the Start menu and select Control Panel.
Access Uninstall a program.
Click on the unwanted program and click Uninstall.
Windows 8/Windows 8.1
Press Win+X and access Control Panel.
Select Uninstall a program.
Right-click on the unwanted program and select Uninstall.
Remove Vidzy from your Browsers
Google Chrome
Tap Alt+F and select More Tools.
Choose Extensions on the left.
Select the extension and click on the recycle bin icon.
Press Remove in the pop-up window.
Mozilla Firefox
Tap Alt+T and navigate to Add-ons.
Choose Extensions on the left.
Select the extension and click Remove.
In non-techie terms:
Vidzy is an unreliable browser extension that is supposed to be a YouTube video player bar, but it has been classified as a potentially unwanted program. This extension does not even appear to be functioning, which makes it absolutely useless for you to keep it on your PC. At the same time, this application might put your system at risk by the potentially harmful third-party ads it might show you; not to mention the malware infections it may come on-board with. All in all, you are better off removing Vidzy. We recommend installing a trustworthy antimalware tool in order to handle all infections that may be present on your PC.