Do you know what Vidloggersite.com is?
This may come as a surprise, but Vidloggersite.com is a malicious search engine that our researchers have classified as a browser hijacker. We recommend that you remove it from your PC before it leads to your computer becoming infected with more malware or you being scammed by cyber criminals. We do not want to give the impression that it is a major security threat. However, the possibility to experience the mentioned consequences is real. Therefore, you should take measures to keep your online security in good standing.
In order to get a better understanding of what this hijacker is all about, we must look at its origins. Due to the lack of credible sources, we will base our analysis on the finding of our malware analysts and the information featured on Vidloggersite.com. It seems that this browser hijacker has published by a company that called GoDaddy LLC. This company is not known to produce browser hijackers. Nevertheless, we know of its existence since our analysts have linked it with browser hijackers such as InmotionSearch.com and Whaatnext.com, as well as a potentially unwanted program called FantastiGames. Now, this company might not have made the malware mentioned above but had a role in its dissemination. Therefore, we regard this company as unreliable and warn about using its products.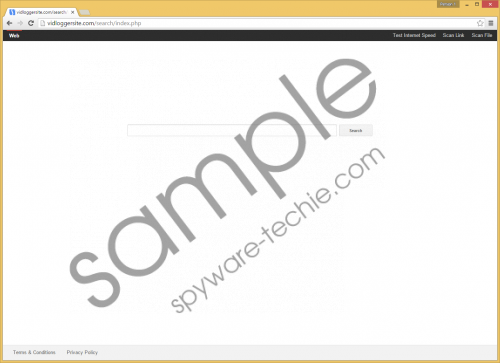 Vidloggersite.com screenshot
Scroll down for full removal instructions
This browser hijacker's distribution methods are rather elusive. We still do not know the methods used to infect the computers. However, we have received reports saying that Vidloggersite.com enters computers via malicious software bundles whose installers were configured to inject this browser hijacker secretly. Our researchers think that this particular hijacker does not come with a browser extension such as a toolbar, but is rather inserted directly by a malicious installer. So if you do not have an anti-malware tool, then many more similar injections can find their way on your machine and cause big problems. So let us take a look at Vidloggersite.com's features.
You can use Vidloggersite.com as a regular search engine, but there is no reason why you would want to because it redirects the entered search queries to Yahoo.com, a legitimate search engine that is often used by malware developers to do all of the work. However, we want to stress that Vidloggersite.com is set to modify Yahoo's search results to include additional advertisements that can be malicious since GoDaddy LLC is oblivious to the fact that it can accidentally (or not) promote unreliable content. This hijacker is set to replace the homepage address of Google Chrome, Mozilla Firefox, and Microsoft Internet Explorer. Nevertheless, in some cases, it might also change the search provider and new tab page, but this depends on the instructions written for the installer. Now that we have briefly covered its primary functions let us discuss privacy.
You may be interested to know that this browser hijacker has some questionable information collection practices. For example, its privacy policy states that "We receive and store any information you enter on our Site or give us in any other way, including through email, telephone, or other communications. If you contact us for support, we will keep an internal record of our communication with you." You may want to reconsider contacting the developers if you are planning on to for any reason because everything you reveal about yourself is stored and may be used for marketing purposes. It should also automatically collect information such as your IP address, browsing history, search history, ads clicked, hardware and software information about your PC, browser type, and so on. However, its developers say that they collect the IP address and other unspecified information.
Clearly, there is nothing to gain from using Vidloggersite.com to search the Internet. It redirects the search queries to a third-party search engine, includes promotional links in its search results as well as ads on its main page and collects information for marketing purposes. All of this in unwelcome, especially since this hijacker, is set to enter your PC without your knowledge. So if you do not want this shady search engine as you homepage, then follow the removal guide provided below.
How to remove this browser hijacker
Microsoft Internet Explorer
Press the Windows+R keys on your keyboard.
Type regedit in the box.
Click OK.
In the Registry Editor, go to each of the following locations.

HKLM\SOFTWARE\Microsoft\Internet Explorer\MAIN
HKLM\SOFTWARE\Wow6432Node\Microsoft\Internet Explorer\MAIN
HKLM\SOFTWARE\Microsoft\Internet Explorer\AboutURLs
HKCU\Software\Microsoft\Internet Explorer\Main

Look for Start Page in all four of them.
Once found, right-click on Start Page and click Modify.
Replace http://www.vidloggersite.com with another URL.
Google Chrome
Press the Windows+E keys on your keyboard.
Go to %LocalAppData%\Google\Chrome\User Data\Default
Locate Delete Preferences, Secure Preferences and Web Data files.
Right-click them and click Delete.
Mozilla Firefox
Press the Windows+E keys on your keyboard.
Go to %AppData%\Mozilla\Firefox\Profiles\*.default
Open pref.js with Notepad.
Find user_pref("browser.startup.homepage", "http://www.vidloggersite.com");
Replace http://www.vidloggersite.com with another URL.
In non-techie terms:
Vidloggersite.com is yet another browser hijacker that comes in software bundles and is installed secretly. It is set to replace your web browser's homepage and subject you to promotional links in its search results as well as show ads on its main page. Our malware analysts have deemed it unsafe and recommend that you delete it. You can use the guide above to get rid of it manually. Nevertheless, a good antimalware program can do this as well.