Do you know what VideoCodec (Staging Test) is?
If you have noticed that there is a VideoCodec (Staging Test) extension added to your browsers, there is no doubt that an advertising-supported application has managed to enter your system. We suggest that you get rid of this extension as soon as possible because you will start seeing commercial advertisements on your screen very soon. Adware programs generate very annoying and intrusive advertisements, so you might notice that it is impossible to surf the Internet. As you probably know, ads can be removed by erasing VideoCodec (Staging Test) from the system, but, unfortunately, it is not so easy to do that because this program cannot be erased via Control Panel. Our specialists know how you can erase adware easily and quickly; they are ready to share their knowledge with you in this article.
In most cases, VideoCodec (Staging Test) enters the system without permission, but users notice that very quickly because this advertising-supported application starts displaying various commercial advertisements. Our specialists have noticed that you will start seeing various coupons, banners, shopping suggestions, and pop-ups. In addition, many users notice that they are offered to download some kind of program or take part in a survey periodically. These ads might really seem harmless, but you will never know whether good or bad links are embedded into them, which means that you might end up on corrupted websites very quickly. Malicious software might be hiding on those websites, so you might infect your system with serious threats (e.g. Trojans, ransomware, rootkits, etc.) very quickly. Keep in mind that it is very difficult to remove malware, so you should not allow it to enter your system by any means.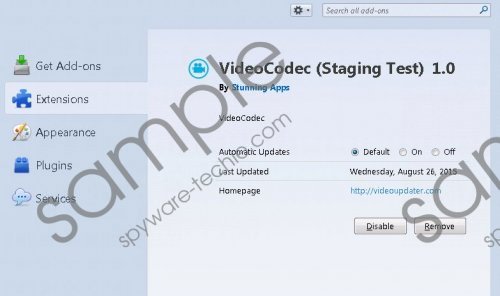 VideoCodec (Staging Test) screenshot
Scroll down for full removal instructions
Specialists have noticed that all the files of VideoCodec (Staging Test) are signed by Stunning Apps. In addition, it seems that this program is related to Browser Guardian, another advertising-supported application, because both programs are hosted on the same IP address. There is a possibility that other programs developed by the same company exist too. They can enter your system with the help of other programs. We know that you do not want to encounter malware ever again, so we suggest surfing torrent and file-sharing websites carefully. Keep in mind that even one click on the wrong button might result in the presence of malicious applications. Our security specialists also say that you should install a security tool on your computer and download programs from their official websites only. Of course, you should also not judge the trustworthiness of the program from its appearance. In other words, you should always find out whether the program is reliable before you install it on the system.
It is not so easy to delete VideoCodec (Staging Test) from the system, but you should still do that because it is the only way to stop all those annoying advertisements from appearing. Our specialists have noticed that this adware can be eliminated via the Add-ons Manager; however, it is not enough to do that. In order to fully erase this program, you will also have to delete its files manually too. Feel free to use our instructions placed below this article.
How to get rid of VideoCodec (Staging Test)
Internet Explorer
Open your browser and tap Alt+T.
Select Manage Add-ons and click Toolbars and Extensions.
Select the unwanted extension and Remove/Disable it.
Mozilla Firefox
Launch your browser.
Tap Ctrl+Shift+A simultaneously.
Open Extensions.
Find the extension that belongs to VideoCodec (Staging Test).
Delete it from your browser.
Remove the remaining files of VideoCodec (Staging Test)
Launch RUN (Tap the Windows key + R).
Type in %PROGRAMFILES(x86)%\VideoCodec (Staging Test) .
Click OK.
Delete all the files that belong to this adware program.
In non-techie terms:
If you do not think that you can remove this adware yourself, or you still see various commercial ads on your screen, you should definitely scan your system with a reputable antimalware tool. There are hundreds of tools available, so it might be difficult to decide which one to install. If you want to hear our opinion, we believe that SpyHunter is the best choice. Its diagnostic version can be downloaded from this website.