Do you know what videoCenter Search is?
You may not even realize that a new browser extension called videoCenter Search has appeared in your Google Chrome browser and thus put your virtual security at risk. You may not notice the small play button icon in the top-right corner of your browser window and that your default search engine redirects you a possibly manipulated Yahoo search results page. All these are due to workings of this browser extension that has been categorized as a browser hijacker by our researchers who tested this tool in our internal lab. They have also found that this this extension is not the only one coming from the same team. There are three other very similar or basically identical extensions called gamesCenter Search, movieCenter Search, and arcadeCenter Search. The problem is that no matter how innocent such a tool may seem to you, they can always come on board in packages containing several threats. This is one of the main reasons why you should not tolerate the presence of this browser hijacker. We advise you to remove videoCenter Search immediately if you do not want to experience yourself what might happen when you leave it on board.
You can install this extension from official pages, such as its promotional site at playmediacenter.com and the Chrome web store at chrome.google.com/webstore/detail/videocenter-search/mdjjheahflojkcmklcnfeogpbgngfojd. Based on the statistics on the latter, you can see that this tool is quite popular, or, at least, almost one hundred thousand people have installed it. Of course, we do not know how many of them have already removed it and what their opinion is because there is no review left. What we find even more annoying and disturbing is that it forces unsuspecting users to install an extra extension called streamJunkie Search. So before you end the installation of this browser hijacker, you find yourself forwarded to a promotional page and tries to push this other tool to be installed. This page is designed in a deceptive way so that you would not notice the "Skip" button right away and you would rather click on the "Add Now" button that is sort of suggested by the page. We do not like this kind of aggressive marketing and this is one of the reasons why we recommend that you delete videoCenter Search.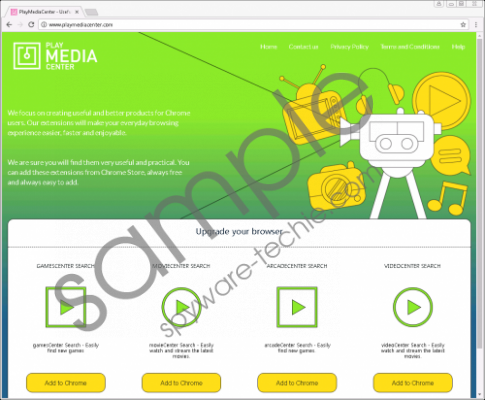 videoCenter Search screenshot
Scroll down for full removal instructions
Another more serious reason is that it is also spread via free software bundles that could pack a couple of other malware threats and potentially unwanted applications as well. Downloading and installing such a package is always risky as it can be the source of multiple system security issues. This is why it is so important that you always make sure that you are aware of the whole content of a software package and understand what browser setting changes and additional installations are about to take place before you click on the "Next" or "Install" button. Most inexperienced users make the mistake of going for the quick installation option, which usually does not reveal the full content and other changes. So, by default, they will install the whole package, possibly including adware programs, browser hijackers, ransomware programs, Trojans, keyloggers, and other threats. You should always use reputable and official pages for downloading software and updates to try to avoid such multiple infections. It is advisable to run a web search on your targeted application as well as the download source to be on the safe side. But right now we suggest that you delete videoCenter Search and then, scan your PC with a trustworthy malware scanner to find all other possibly harmful programs as well to be able to take proper action against them.
This questionable tool installs a button in the toolbar of your browser right next to the menu button. When you click this button, a pop-up window comes up that has a search tool and a couple of movie genre thumbnail links. This search tool and the links as well take you to gomovix.com, which is a suspicious and useless website that claims to provide access to online streaming movies but it is not true. Instead of being able to watch movie when you click on the designated button, you will find yourself on a plain or possibly modified Google search results page on how you can watch your chosen movie online. This is rather annoying and makes you wonder why there is such a site at all. Well, possibly because of third-party advertising among other reasons.
Another unfortunate function of this browser extension is that it sets its own search engine, movie.eanswers.com, as your default one. If you run a web search through the address bar, you will end up on a modified Yahoo search results page that could include advertisements and sponsored links from questionable affiliates. Since this tool can make a living for its creators by driving web traffic to third-party websites, there is no guarantee that all of them are actually trustworthy. This is why it is always risky to click on anything related to this tool and this is also why we suggest that you remove videoCenter Search as soon as you can.
If you have a minute and basic computer skills, you can easily tackle this browser hijacker by following our instructions below. However, if you are looking for an automated tool that could eliminate all existing malware infections and potentially harmful programs from your PC, we recommend that you use a reliable anti-malware program like SpyHunter. Of course, installing such a security tool does not mean that you do not need to update all your programs and drivers regularly to lower the vulnerability of your system.
Remove videoCenter Search from your browser
Google Chrome
Tap Alt+F and select More tools.
Go to Extensions and locate this extension.
Click on the Trash can on the right side.
In the confirmation window, press Remove.
In non-techie terms:
Noticing videoCenter Search in your browser may surprise you and you may not even remember installing it. As a matter of fact, this browser extension has been labeled as a browser hijacker by our researchers as it is capable of changing certain browser settings. This hijacker sets its own search engine as your default; however, this can expose you to potentially dangerous third-party ads and links that could result in infecting your system even more or you could also land on malicious websites and cause even more serious problems. If you do not want to lose money from your bank account by being scammed on a fake website run by cyber crooks, we recommend that you remove videoCenter Search as soon as possible. If you cannot keep your PC protected against such malware threats, we suggest that you install a proper anti-malware program before more serious infections show up on your computer.