Do you know what VideoBelle Ransomware is?
Ransomware infections based on HiddenTear, an open-source ransomware infection released for educational purposes, are still being developed. VideoBelle Ransomware is the newest malware developers' creation. It has been not infiltrated many computers yet, but it does not mean that you cannot detect it on your system. As has been noticed by researchers, the majority of users who discover this infection on their computers do not have a security application enabled on their systems and act quite carelessly, e.g., open spam emails they get. If you consider yourself one of these users too, it is only a question of time when VideoBelle Ransomware shows up on your system. It is impossible not to notice the entrance of the ransomware infection because it immediately goes to encrypt users' files. These threats do not perform this activity just to cause problems to users. They encrypt users' personal files seeking to extract money from them easier. You will see for yourself a message left for you demanding money after the entrance of VideoBelle Ransomware and successful encryption of your personal data. We know that you need to access those files, but we cannot let you transfer money to cyber criminals because this yet does not guarantee that you could unlock your files. Also, users encourage malicious software developers to create and release more harmful threats by sending them money. These new infections they develop might show up on your computer one day too.
Ransomware infections always enter users' computers illegally, but it is usually not that hard to say that there is a crypto-threat inside the system because these threats encrypt files and append new filename extensions to them right after the entrance. In the case of the VideoBelle Ransomware entrance, you will see your documents, pictures, music, videos, and other files having the .locked extension. This threat should not lock your all files, specialists say, because it targets the following directories only: %USERPROFILE\Desktop, %USERPROFILE%\Downloads, %USERPROFILE%\Documents, %USERPROFILE%\Pictures, %USERPROFILE%\Music, and %USERPROFILE%\Videos. It means that it does not try to ruin Windows files and make the compromised machine unusable. A bunch of encrypted files having the .locked extension appended is not the only symptom indicating that there is the ransomware infection inside the system. If you really become a victim of VideoBelle Ransomware, you will also find a new file Message_Important.txt in directories with encrypted files. It tells users to write an email to fbi-cybercrimedivision@hotmail.com and then pay a ransom in Bitcoins. You should not send malicious software developers your money because they might leave you both without your personal files and money. Specialists say that VideoBelle Ransomware is one of those decryptable ransomware infections, but, unfortunately, a free decryptor has not been released yet. Luckily, there is still one thing you can do to get your files back – restore them from a backup.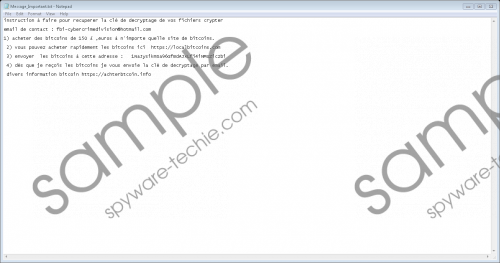 VideoBelle Ransomware screenshot
Scroll down for full removal instructions
If you have encountered VideoBelle Ransomware, there is basically no doubt that it has shown up on your system because you have opened a malicious attachment from a spam email or downloaded software from an untrustworthy P2P website. Also, it could have slithered onto your computer without your consent due to weak RDP credentials. In any event, you must delete this threat as soon as possible because it will encrypt your files again if you launch it accidentally.
VideoBelle Ransomware is definitely not one of those sophisticated threats because it does not make modifications on compromised machines. Also, it only drops a single file – the ransom note Message_Important.txt on victims' computers. It means that the manual removal of this threat should not be an arduous task. Of course, you can let an automatic malware remover to erase it for you if you do not trust yourself and your skills.
How to remove VideoBelle Ransomware
Open Explorer (tap Win+E).
Open %USERPROFILE%\Desktop and %USERPROFILE%\Downloads.
Delete all recently downloaded files.
Remove the ransom note Message_Important.txt from directories containing encrypted files.
Empty Recycle bin.
In non-techie terms:
VideoBelle Ransomware is one of the nastiest infections recently detected by specialists. It enters computers without permission and then, without mercy, encrypts users' personal files, including pictures, videos, music, and more. Of course, it then demands money. Do not even think about transferring money to cyber criminals. Instead, go to delete the ransomware infection from your computer so that it could not encrypt your files again.