Do you know what Video Tile is?
Video Tile is a program that offers you a possibility to "sit in several front row seats simultaneously." What does this mean? It means that you will be allowed to combine various Internet video streams in one single, clean display and thus watch several videos at the same time. Is this offer worth giving this program a try? We do not think so. First of all, it is questionable whether Video Tile will be able to act in the way it promises. Second, you should know that it is an adware application that will make you feel uncomfortable with its commercial ads, pop-ups, and shopping offers. We firmly believe that you should remove this program from your PC.
We have such an opinion regarding this intruder because we decided to test it in our internal laboratory. The tests revealed that Video Tile is created on the basis of the Injekt engine. This program is similar to such adware applications as Monarch Find, Social Reviewer, and Deal Maveric. Besides, Video Tile's files are signed by Outrageous Deal, and this company is known for being responsible for other adware programs. This allows us to guess that the actual purpose of Video Tile is not to provide you with any beneficial feature but just to show you ads. Even the End User License Agreement of the application states that the program is free, but supported by ads.
And you surely will encounter many of those advertisements if Video Tile is still present on your device. Those will be irritating, at the least. Besides, the application allows third-party advertising, so clicking on any of the ads may result in your being transferred to corrupted pages. Online criminals and scammers may even run some of them. For example, you may find on the webpage a fake message that says that your PC is infected and that you need to dial a toll free number to receive virus removal instructions. Of course, this call will be one of the most expensive you have ever made.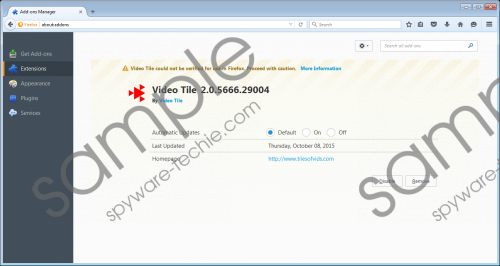 Video Tile screenshot
Scroll down for full removal instructions
Please also note that Video Tile not only spies on you and collects information on your Internet activity, such as pages you visit, goods you buy online, and things you search for. All this information may be transferred to unknown and suspicious business partners of the adware program. How can you prevent all the unwanted consequences of using Video Tile? By eliminating it from your device.
In addition, Video Tile is not a trustworthy application because it usually tricks unaware computer users and comes to their computers unnoticed. It is distributed in software bundles, and those bundles may contain other unwanted and sometimes harmful programs. Yes, you can eliminate the adware application just in a few simple steps, especially by following instructions that we have prepared. But to get rid of other computer threats that may accompany it, you will need a reliable security guard that will ensure the 100% protection of your system.
How to remove Video Tile from your computer
Windows XP
Click the Windows logo and open Control Panel.
Go to Add or Remove Programs.
Remove Video Tile.
Windows 7 and Windows Vista
Access the Start menu.
Choose Control Panel.
Open Uninstall a program and delete Video Tile.
Windows 8, 8.1, and Windows 10
Right-click the Windows logo.
Select Programs and Features.
Eliminate Video Tile.
In non-techie terms:
Video Tile is an intrusive adware application that tries to masquerade as a useful tool. However, it is much more likely that you will face more negative effects than positive ones while using this program. The application will surely disrupt your computer usage. Besides, the safety of your information will not be completely protected if Video Tile is still onboard. Remove this program for good and forget about it.