Do you know what Video-Saver is?
Video-Saver is a potentially unwanted application that is categorized as adware. It means that Video-Saver is not a computer virus, but if you are a security-minded computer user you will not want such an application on your system. If Video-Saver is installed on your computer, it means that you will experience an onslaught of commercial advertisements and the pop-ups will not disappear unless you remove Video-Saver for good. Luckily, it possible to uninstall Video-Saver via Control Panel and you should do it as soon as possible.
You may say that you have no idea how Video-Saver entered your computer. That is understandable, because there is homepage for Video-Saver and the application is generally distributed bundled with other programs. It is very likely that you are not informed about additional applications about to be installed on your computer, so you will not know you have Video-Saver until it starts displaying various pop-ups.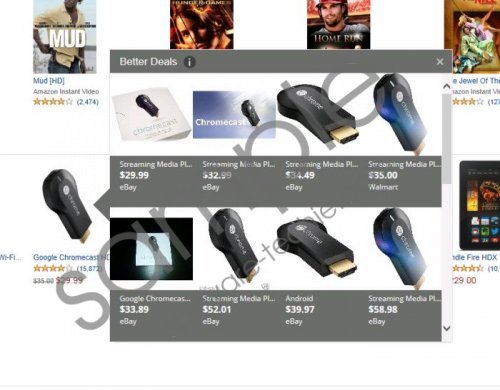 Video-Saver screenshot
Scroll down for full removal instructions
Video-Saver is similar to a number of adware applications from Lyrics family. It uses Crossrider engine and in order to generate commercial advertisements, Video-Saver connects to giw.mapopen.net adware server. It means that the application does not select the content for pop-ups on its own, so to speak. It also implies that if you get redirected to potentially corrupted websites via commercial pop-ups, Video-Saver is not the one to blame, because the application cannot and does not review all the third party content that gets embedded into Video-Saver ads.
What is more, the application is known to be directly associated with Jollywallet adware application. It is obvious; because Jollywallet banner is displayed at the top of certain commercial websites when Video-Saver extension is installed on your default browser (Video-Saver is compatible with Google Chrome, Internet Explorer and Mozilla Firefox). Apart from the banner, Video-Saver also displays a lot of pop-up ads and shopping suggestions that claim you can purchase certain goods at an optimal price.
It would be great if Video-Saver could help you save money while you shop online, but our main security concern is that this application can be exploited by malevolent third parties for corrupted content distribution. As it has been mentioned above, Video-Saver does not check what kinds of links are embedded into the pop-ups, so if you click any of them, you click it on your own risk.
In the long run you could be redirected to commercial websites involved in online marketing schemes or even worse – the page you land on could be part of malware distribution network. Therefore, to avoid computer security threats, you need to remove Video-Saver right now, and then scan your PC with SpyHunter free scanner. A full system scan will ensure that your computer is not infected with dangerous threats.
How to remove Video-Saver
Windows 8
Move mouse cursor to the bottom right of the screen.
Click Settings on Charm bar and then go to Control Panel.
Select Uninstall a program and remove Video-Saver.
Windows Vista & Windows 7
Open Start menu and select Control Panel.
Go to Uninstall a program and remove Video-Saver.
Windows XP
Click Start menu button and go to Settings.
Open Control Panel and select Add or remove programs.
Uninstall Video-Saver.
In non-techie terms:
Video-Saver displays pop-up ads when you open online shopping web pages. These pop-ups are annoying and clicking them could lead to dangerous websites. To avoid various computer security issues, it is for the best to remove Video-Saver as soon as possible.