Do you know what Video-high by Videohq is?
Sometimes adware applications may appear to have useful functions. For example, Video-high by Videohq is promoted as a browser extension that can make video viewing in HD a piece of cake. However, our research teams warns against utilizing this application, because Video-high by Videohq is directly related to potentially unwanted and even dangerous adware apps. If you have installed this application on your computer, remove Video-high by Videohq right now, and then check for other potentially unwanted applications that might be installed on the PC as well.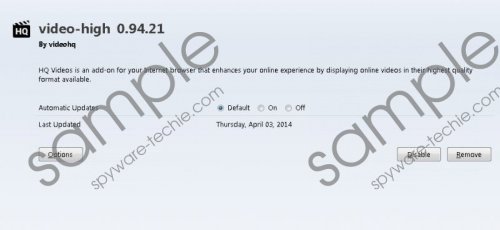 Video-high by videohq screenshot
Scroll down for full removal instructions
Video-high by Videohq is created using Crossrider engine. It means that this application falls under the same category as Lyrics family adware, HD Total, TornTV, HD Plus and other similar programs. As you can see, despite the fact that Video-high by Videohq is said to be a browser add-on that improves online video quality, in reality it is just another adware application that affects all main browsers (Google Chrome, Mozilla Firefox and Internet Explorer) and displays commercial pop-ups.
The pop-ups are displayed when you visit online shopping websites. Video-high by Videohq is known to be compatible with eBay, Walmart, Best Buy and other popular online mall chains. Needless to say, that Video-high by Videohq does not review the content displayed on the pop-ups, so basically anyone could embed their corrupted links into the ads, as long as they know how to do that. It means that you should NEVER click pop-up ads if you are not sure of their source, and you need to run a full system scan with a reliable computer security tool once you notice pop-ups appear on your browser on a regular basis.
Pop-up ads and Video-high by Videohq in particular are not direct computer security threats, but adware presence on your system may indicate that your security has been breached and you need to take particular safety measures to restore it. First and foremost, you need to remove Video-high by Videohq from the PC.
This adware application comes with a Control Panel entry, so it is easy to remove Video-high by Videohq manually. However, keep in mind that such programs seldom travel alone. Thus, there might be other adware or freeware applications that need to be uninstalled from your computer. Get yourself a licensed computer security application and remove all the unwanted applications right now. Protect your system from the likes of Video-high by Videohq and make sure you stay away from freeware in the future.
Uninstall Video-high by Videohq
Windows 8
Move mouse cursor to the bottom right of the screen.
Click Settings on Charm bar and go to Control Panel.
Open Uninstall a program and remove Video-high.
Windows Vista & Windows 7
Open Start menu and select Control Panel.
Go to Uninstall a program and remove Video-high.
Windows XP
Open Start menu and click Settings.
Press Control Panel and select Add or remove programs.
Uninstall Video-high.
In non-techie terms:
Video-high by Videohq gets installed as a browser extension and consequently slows down your browser by displaying a number of pop-up ads. It may also be related to various security risks, so you should remove Video-high by Videohq from your computer.