Do you know what Video Converter is?
Video Converter is a media converter application that has been found acting suspiciously; therefore, our malware researchers have classified it as a PUP, a potentially unwanted program. In fact, this application seems to belong to the so-called "PullUpdate" infection family, which includes Unfriend List and Unfriend Monitor, among others. In the case of Video Converter, we cannot say anything bad about its main function because it has proved to work just fine. We would not advise you to keep it on your computer, though. The truth is that this PUP may introduce you to unreliable third-party ads, which can be annoying, but that is not even the worst thing about it. Since this application can also be found bundled, chances are you have installed a bunch of other malware programs along with Video Converter. It is essential to understand what kind of threat you are facing right now so that you can act accordingly. We think that your computer would be safer were you to remove Video Converter.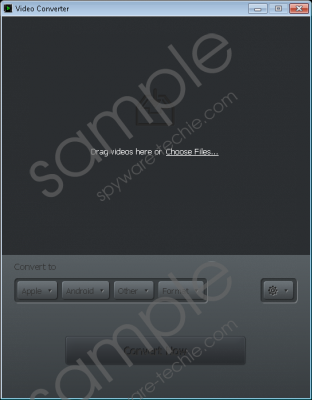 Video Converter screenshot
Scroll down for full removal instructions
Although this PUP has a promotional web page, freevideoconverterapp.com, we do not really think that the web page is the only way through which it can show up on your computer. In fact, our researchers have found Video Converter bundled together with malware infections. These bundles can be downloaded from questionable shareware and torrent sites, which is why you need to be extra careful when you want to renew your software collection and go online hunting for some new freeware. If you are inexperienced, it is possible that you end up on an unreliable file-sharing website that is unfamiliar to you, so you might easily click on a fake button. And one single click can be enough to start a landslide resulting in multiple infections on your machine.
It is also important to mention that even if you download such a "time bomb," you may still have an opportunity to "disarm" it. The installation wizard of these bundles usually offers users a way out of unwanted applications, usually in the form of checkboxes that are most often ticked so that they would automatically install by default if you happen to overlook them. If you allow all the content of such a package onto your operating system, you will have to take action against them without hesitation; otherwise, you may put your virtual security at risk. Therefore, we advise you to delete Video Converter and run a full system scan to determine the number of threats that are endangering your computer.
However, the third-party ads that may present to you potentially unreliable websites may not only come from adware applications that came on-board with Video Converter. As a matter of fact, this PUP can also generate them and show such ads on your computer screen. Although this application "swears" that these are all "high-quality" ads, the truth is that you can never know who is behind them. Imagine what might happen if you get redirected to a website that is run by cyber criminals. Do you think they could scam you out of your money? If you do not want to figure out the answer based on your own experience, you should delete Video Converter now.
We hope that it is clear for you now what you should do with this infection. If you decide to tackle this issue, please follow our instructions below. It is really easy to eliminate this threat even if you are not an expert computer user. But, if you want to make sure that your computer is all secure, we would recommend that you use a professional security tool that can protect your PC from similar and even more dangerous malware attacks.
Video Converter Removal from Windows
Windows 8, Windows 8.1, and Windows 10
Press Win+I and open Control Panel.
Select Uninstall a program.
Click on the program and press Uninstall.
Windows Vista and Windows 7
Access the Start menu and choose Control Panel.
Click Uninstall a program.
Click on the unwanted application and press Uninstall.
Windows XP
Press Win+R and enter Control Panel. Hit OK.
Open Add or Remove Programs.
Click on the undesirable application and press Remove.
In non-techie terms:
Video Converter is a potentially unwanted program that you should not keep on your computer if you intend to protect your system. Although this program seems to function fine, it may also begin to show you third-party ads. However, you may be exposed to even more ads and third-party content through the malware programs Video Converter may arrive with. Therefore, we suggest that you delete this PUP and take care of all the rest of the threats, too.