Do you know what VenusLocker Ransomware is?
VenusLocker Ransomware is one of the newest infections that lock files and then demand a ransom. It enters PCs secretly and does not ask permission to do that. Even though it always enters computers surreptitiously, it will not take long to understand that you have encountered a serious computer infection because a huge number of your personal files will be locked, and you could no longer access any of them. Ransomware infections act like that to give users a reason to pay money for cyber criminals. Unfortunately, this threat does not lie when it says that it has encrypted all the files with RSA-4096, which is known to be a strong encryption algorithm. As a consequence, it is impossible to unlock files free of charge at the time of writing. As our experience shows, there is a possibility that the free decryptor will be developed in the future, so if you do not have extremely important files to unlock, you should delete VenusLocker Ransomware and then wait for the decryptor to be released. To be frank, we cannot guarantee that cyber criminals will unlock files for you even if you pay money, but, of course, it is up to you whether to take a risk or not.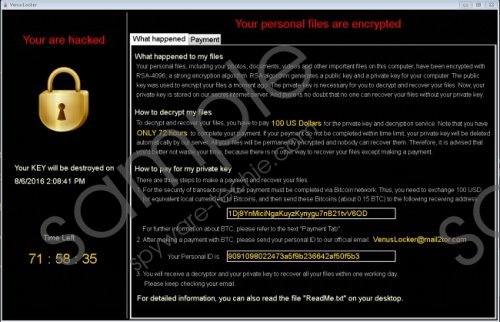 VenusLocker Ransomware screenshot
Scroll down for full removal instructions
If VenusLocker Ransomware enters your computer, you will undoubtedly notice a bunch of files locked. It has been found that it will encrypt documents (e.g. .pdf, .doc, and .docx), images (e.g. .jpg, png, .bmp, and .jpeg), music files (e.g. mp3), videos (.e.g. .avi and .mp4), file archives (e.g. .zip), and a bunch of other files. These encrypted files can be easily recognized because they will all have the new filename extension: .Venusp (it is assigned to files that are encrypted partially) or .Venusf. Of course, it is not the only activity this ransomware does. Our researchers have also found that this threat creates the .jpg file (userbg.jpg) that is set as the Desktop background immediately after it encrypts files. Also, the .txt file (ReadMe.txt) and the window containing the ransom note are put on Desktop. If you read the ransom note carefully, you will find out that you need to pay the ransom of $100 (~ 0.15 BTC) within 72 hours if you wish to get the decryption key. After you make a payment in Bitcoins, you need to send the unique ID given to you to VenusLocker@mail2tor.com. If you are sure that you are not going to support cyber criminals by paying money to them, you should simply focus on the deletion process. We will talk about that in the last paragraph of this report.
There is not much information about the distribution of VenusLocker Ransomware available at the time of writing; however, our team of researchers is sure that it sneaks onto computers illegally. According to specialists, this ransomware infection is, most probably, distributed like other similar threats, including TowerWeb Ransomware and PowerWare Ransomware. Talking more specifically, it is very likely that it is spread through spam emails. You might infect your computer with malware again in the future too. We are sure that you do not wish to encounter another similar threat, so we suggest staying away from spam emails and their attachments, especially if they are sent by unknown senders or you simply do not expect to receive an email with an attachment. Last but not least, security specialists also suggest installing a reputable antimalware tool on the computer. It will not allow any infection to sneak onto the system.
The VenusLocker Ransomware removal is uncomplicated because this infection does not copy itself to other directories and does not make changes in the system registry like other ransomware infections. As we have already mentioned, nobody can unlock your files free of charge at the time of writing; however, you still need to get rid of the ransomware because it might lock your new files, and you will keep seeing the annoying window on Desktop every day.
How to delete VenusLocker Ransomware
Tap Ctrl+Shift+Esc.
Open the Processes tab.
Right-click on the VenusLocker process and click End Now to close the window covering Desktop.
Tap Win+E simultaneously.
Enter %HOMEDRIVE%\Users in the URL bar.
Find and remove userbg.jpg.
Remove ReadMe.txt from Desktop.
Locate and then delete the malicious file you have downloaded from the spam email.
Empty the recycle bin.
Scan your PC with SpyHunter to check whether the ransomware is removed fully.
In non-techie terms:
If VenusLocker Ransomware has managed to find a way to your computer, there is a possibility that other undesirable applications have somehow entered your system too. To find out what the real situation is, you need to scan your PC with an automatic malware remover. The free diagnostic scanner can be downloaded from our website. We can assure you that it is a trustworthy piece of software that will find the unreliable software for you.