Do you know what Velso Ransomware is?
Velso Ransomware is the infection you do not want to face. If you face it, that means that your personal files are corrupted, and, unfortunately, you cannot restore them yourself. In fact, it is unlikely that anything or anyone could restore your personal files because this malicious ransomware uses a very complicated encryption algorithm, and the party standing behind it is unlikely to waste their time with the decryption. Of course, they might promise you a tool or a key in return of a payment, but such promises are empty, and you should never trust anything cyber criminals have to say because it is only meant to help them benefit in one way or another. This stands true for Lime Ransomware, Krypton Ransomware, MoneroPay Ransomware, and all other file-encrypting threats. Our research team is scanning the web to learn about new threats before they strike, and if you want to be updated, make sure you keep up with the latest reports. Right now, of course, you need to delete Velso Ransomware.
Your inbox is where the malicious Velso Ransomware is likely to hide. The threat is believed to spread via corrupted spam emails that could be sent to your inbox by cyber criminals. How they obtain your email address is a mystery, but misleading surveys and advertisements or even malicious data-collecting threats could be involved. The message representing the launcher of the ransomware, of course, is misleading, and the message is meant to trick you into opening a malicious file attachment. If you do this, Velso Ransomware is unleashed without you even knowing it. The next step for this malware is to obtain the encryption key, and the infection should connect to a remote server for that. When the encryption starts, the threat scans the system to find personal files, which are then encrypted. The corrupted files have ".velso" appended to their names, and so it should be easy for you to spot them. Unfortunately, this cannot be fixed by removing the ransomware.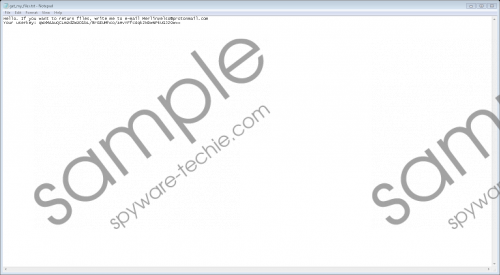 Velso Ransomware screenshot
Scroll down for full removal instructions
Once files are encrypted, Velso Ransomware proceeds to create a file named "get_my_files.txt." The original location of this file is unknown (could be the Desktop), but you will find its copies all over your operating system where the encrypted files are. The message within this file reads: "Hello. If you want to return files, write me to e-mail MerlinVelso@protonmail.com." Our research team does not advise writing to cyber criminals because they need this only to approach you with the ransom demands. If you pay a ransom for a decryptor, you will not achieve anything. Most likely, your files will remain encrypted. If you do not want to put your savings on the line along with your personal files, we suggest you ignore the ransom demands. That should be easy to do if your most sensitive and valuable files are backed up externally, and you still have access to them after the encryption by Velso Ransomware.
Can you remove Velso Ransomware manually? Hopefully, you can, but that depends solely on your ability to identify the launcher .exe file. If that is not possible, it is best to install an anti-malware program right away. It will immediately scan your operating system to determine which files and programs are malicious, and then it will automatically delete them. This is very helpful if more than one threat is present on your operating system. Another useful thing about this program is that it can keep you safe in the future. If your system is fully protected, your files are backed up, and, most important, you stay away from spam emails, you should not be attacked by Velso Ransomware or any other ransomware again.
Delete Velso Ransomware
Delete recently downloaded suspicious files/attachments.
Delete the ransom note file, get_my_files.txt (delete all copies).
Empty Recycle Bin.
Install a trusted malware scanner to inspect your system for malicious leftovers.
In non-techie terms:
It does not take much to identify Velso Ransomware as a malicious threat that requires removal. It slithers in using deceptive techniques. It encrypts files to force victims into paying money for something that is not provided to them anyway. Clearly, this threat is malicious, and even if it does nothing harmful after it is done with the encryption, you do not want it installed. Use the instructions available above if you want to remove Velso Ransomware, or install an anti-malware program if you want the threats erased automatically. Choose the latter solution if you are dealing with other threats and if you want to strengthen your operating system's protection against malware in the future.