Do you know what Vda.gtarcade.com is?
Vda.gtarcade.com is a website to which you can be taken by pop-up advertisements when your Internet browsers are afflicted by an adware program or a browser hijacker. Vda.gtarcade.com promotes Gtarcade's game League of Angels, and, if you want to get rid of those annoying advertisements, you should remove the program that is responsible for it.
Pop-ups advertising Vda.gtarcade.com are sent to your browsers by the advertising server loa.teebik.com. The server may work jointly with many applications, including SearchNewTab (SNT), Surf and Keep, and YoutubeaAdBlocker. The names of some of the applications may be randomized, i.e. they may contain some additional letters, some of which may be capitalized. SearchNewTab, or SNT, and Surf and Keep have this feature, so do not get surprised when you find the extensions are given as SeeArch-NewTaab or SUuurfaNdKeapp. It is also possible to receive advertisements promoting Vda.gtarcade.com when the browsers are hijacked by websearches.searchboxes.info, searchrocket.info, or some other hijackers. All that you have to do is ignore Vda.gtarcade.com and remove the adware program or the browser hijacker from the computer.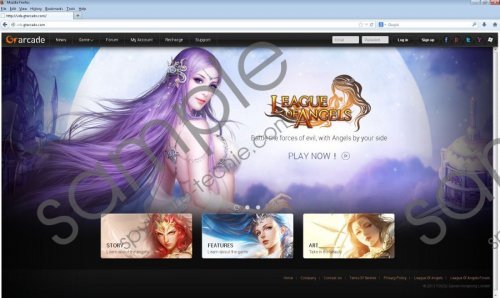 Vda.gtarcade.com screenshot
Scroll down for full removal instructions
Usually when Internet browsers are afflicted by an adware program, some tracking techniques are used to monitor the user. Browser cookies, pixels, etc record users' clicks, impressions, browsing history and other non-personally identifiable information and send it to remote servers. The information collected may also be shared with third parties and use for marketing purposes.
In addition to Vda.gtarcade.com advertisements you probably receive some other pop-ups, some of which have nothing in common with your search terms, interests and the content of the website on which advertisements are displayed. You may also be invited to scan the computer, read some article, access a shopping website, etc. Since you cannot know to what website you will be taken, we recommend that you remove the adware program or the browser hijacker and shield the system from malware and spyware.
As regards the removal of the unwanted application, we recommend using SpyHunter because this application can eliminate adware, browser hijackers, and many other computer threats. The recommended spyware removal tool can safeguard the system against multiple malicious programs, which means that you can safely browse the Internet and save your time.
In case you are determined to remove the adware program manually, use our removal good. Feel free to leave a comment below if you encounter difficulties while trying to get rid of the unwanted application.
How to get rid of Vda.gtarcade.com advertisements
Windows Vista and Windows 7
Open the Start menu.
Click Control Panel.
Click Uninstall a program.
Remove the unwanted application.
Windows 8
Press Win+R and type in control panel.
Click OK.
Select Uninstall a program.
Uninstall unwanted applications.
Windows XP
Open the Start menu.
Click Control Panel.
Select Add or Remove Programs.
Remove unwanted programs.
In non-techie terms:
Vda.gtarcade.com is a game website which can be promoted by adware programs. If you want to get rid of advertisements inviting you to play a game at Vda.gtarcade.com, implement a powerful spyware and malware removal tool.