Do you know what Ustarts.xyz is?
Ustarts.xyz derives from a big family of browser hijackers that includes such infections as Tabs000.online and Startab.me. These browser hijackers pose as regular search tools, but, in reality, they are completely worthless, which is one of the reasons for you to delete them from your browsers. According to our research, most of these infections affect Google Chrome. In case you discover that this hijacker has corrupted different web browsers, we would like your input. Simply add a comment below, and we will immediately add instructions showing you how to remove Ustarts.xyz from all browsers. For now, it looks like only Google Chrome users are vulnerable. Our malware analysts warn that the hijacker is most likely to affect the homepage and the New Tab on your Chrome browser. Well, do not worry because we can show you how to clean your browser and how to protect your entire operating system to make sure that unwanted pieces of software do not slither in again.
Did you download Ustarts.xyz yourself as a standalone piece? This is unlikely. The hijacker is most likely to be bundled with a browser extension (which is likely to be the cause of New Tab modifications) or other suspicious third-party programs. Have you researched the software downloaded along with the hijacker? Do not judge the programs by their exterior or the promises that are made upon installation. Instead, run a legitimate malware scanner to quickly examine the software on your PC. If malware is active, a reliable scanner will warn you about it right away. If you discover much more aggressive threats, we suggest you focus on the first. Although – as you will soon find out – Ustarts.xyz is potentially dangerous, there are far worse infections than this hijacker. Our researchers warn that even harmless-looking potentially unwanted programs and advertising-supported software could be dangerous. Also, note that if there are many threats, you can eliminate them all using one single step. We will talk more about this in the last section of this report.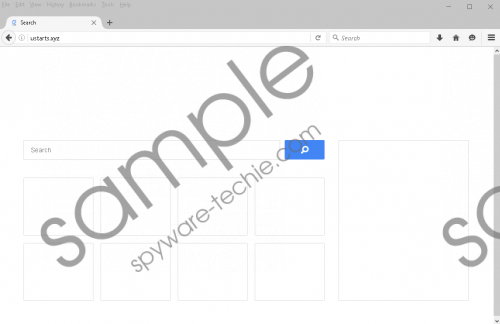 Ustarts.xyz screenshot
Scroll down for full removal instructions
So, why is Ustarts.xyz considered unreliable and potentially dangerous? Well, first of all, this hijacker is completely unpredictable. Because we are not provided with a Privacy Policy and other legal information or the Contacts information to help us communicate with the creators of this hijacker, we have to consider the worst outcomes. For example, we do not know anything about data-tracking tools that this hijacker uses, and we are sure that it does, which means that we cannot know for sure whether or not personally identifiable information is recorded by these tools. Another thing we do not know is who the developer of Ustarts.xyz works with. Maybe it is affiliated with malicious parties who could use it to spy on you and potentially expose you to unreliable content. Another reason to delete this hijacker from your operating system is that it redirects to a third-party search engine. And it does not matter that it redirects to Google Search. Unauthorized redirecting is considered malicious and should not be ignored.
There is no reason why you should postpone the removal of Ustarts.xyz. Get rid of this hijacker, and you will get rid of many problems that you might face in the future. As mentioned before, there is a way to erase all existing infections at the same time, which is something you might be interested in if a malware scanner has revealed many threats. What we recommend is downloading an automated remover/anti-malware. If you choose to follow the guide below, keep in mind that you will need to take care of all other threats, as well as Windows protection by yourself. The guide below shows how to manually reset your browser, and this method will help you erase hijackers, extensions, and cookies at the same time.
Remove Ustarts.xyz from Google Chrome
Open the browser and tap Alt+F keys.
Select Settings.
Move to the bottom of the page and click Show advanced settings.
Now, scroll to the very bottom and click Reset settings.
Click the Reset button to confirm your choice.
Restart the browser and then restart the computer.
Install a malware scanner to inspect your operating system.
In non-techie terms:
Ustarts.xyz is a hijacker, and that might be enough information for you to decide that you need to delete it from your Google Chrome browser. The reality is that, although it looks harmless, this hijacker might act in an unpredictable manner, and that is very dangerous. Our research team recommends deleting this hijacker ASAP, and you can use the guide above if you want to proceed manually. Of course, we believe it is best to trust automated malware removal software, especially if other threats are active. Are you having any problems with the removal? Do not hesitate to comment down below! We can help you.