Do you know what Uselessdisk Ransomware is?
Uselessdisk Ransomware is a monstrous infection that was created for the sole purpose of tricking gullible Windows users into giving up their money. The unfortunate thing is that the money paid as a ransom cannot help recover access to the operating system and personal files. That is because the threat acts as a wiper, and once it is done, there is nothing anyone can do. The infection overwrites the MBR (Master Boot Record) on the victim's computer, and so when the computer is restarted, they are introduced to a ransom note, and there is no way of getting around that. Paying the ransom is not an option. You cannot remove Uselessdisk Ransomware either. What's else to be done? Our research team has reviewed the infection, and the findings are represented in this report. If any questions pop up in your head while reading, do not hesitate to post a comment below.
According to our research, the malicious Uselessdisk Ransomware is very similar to the infamous Petya Ransomware, an infection that had many clones and many followers in the past. When Petya would overwrite the MBR, it would still be possible to fix the situation using the OS installation disc and Windows repair tool. This does not work for the infection we are discussing today. That is because besides overwriting MBR, it also corrupts the partition table of the hard drive. Although the recovery is not impossible, even highly experienced users are likely to find the process extremely difficult and complicated. To inexperienced users, this will not be possible at all. You will see the effects of the devious Uselessdisk Ransomware as soon as it slithers in, and it can do that using attachments sent via misleading spam emails, as well as fake cracks/keygens that might be offered on unreliable websites. Needless to say, you should never trust unfamiliar downloaders, and you should remove spam emails without even opening them if you do not want to face malware or scams.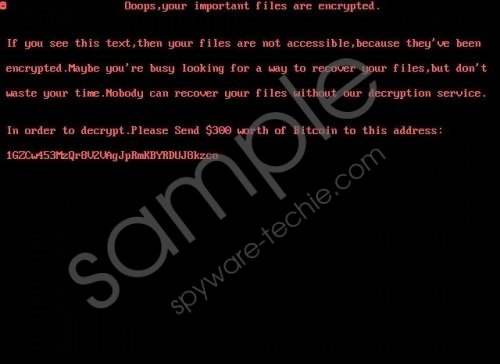 Uselessdisk Ransomware screenshot
Scroll down for full removal instructions
The ransom note that is represented by Uselessdisk Ransomware when the system is rebooted informs that a ransom of $300 must be paid for the so-called "decryption service." The ransom is expected to be paid in Bitcoins to 1GZCw453MzQr8V2VAgJpRmKBYRDUJ8kzco, a wallet created by cyber criminals. At no point during the research were there any transactions made to this wallet, which either means that victims are not giving in or that the infection is not spreading successfully. We hope that the latter is the case. If you think that $300 is a small price to pay to get your files decrypted, we have to warn you that this money would go to waste. First and foremost, ransomware creators are not known for helping those who fall into their traps. Second, it is not even technically possible to restore corrupted systems because there is no way for Uselessdisk Ransomware to identify you and because the partition table is corrupted. Due to this, we suggest focusing on the removal of this malicious infection.
Clearly, you need to delete Uselessdisk Ransomware, but how can you do it if you cannot regain access and control over your operating system. Here's the thing: You cannot delete this malware. Instead, you need to reinstall Windows, and if you do that, of course, your files are lost. They are lost anyway, so you might as well reinstall your operating system now so that you could get back to using it in a normal manner. This is exactly why backing up data externally/online is so important. If backup copies exist, you will not lose your files no matter what happens or what you do to your operating system. Of course, once your system is restored, you must install legitimate anti-malware software to ensure full-time protection; otherwise, you might be dealing with Uselessdisk Ransomware or the removal of other infections again. If files were not backed up, make sure you start backing up the ones you create in the future.
In non-techie terms:
Although you cannot actually remove Uselessdisk Ransomware from your operating system, you can reinstall it. Unfortunately, that is the only option you have got, and if your personal files are not backed up on external drives or online, this might be the end of them. Hopefully, backups exist, and you still have your personal files even if your system is completely corrupted. This can save you against all kinds of malware and technical issues, which is why you really should always back up personal data. It is also important to install reliable anti-malware software to protect you against malware in the future. If you do this and act carefully yourself, you should not face malware again.