Do you know what Updating-your-browser.org is?
Have you accidentally clicked a link routing you to Updating-your-browser.org or update-browser.org? If you are running Google Chrome, Mozilla Firefox, Internet Explorer or Opera browsers, by visiting these sites you must have been introduced to an intimidating pop-up rushing you to update your active browser. If you were cautious enough to pay attention to the information displayed in small-print, you would know that the updater is not affiliated to the developers of your browsers, which means that the services cannot be trusted. Unfortunately, it has been discovered that the scam has already fooled some of the targeted PC users, which is why you now may need to worry how to delete Updating-your-browser.org related add-ons and applications.
Some of the programs which have been discover to travel bundled with Updating-your-browser.org adware include PC Optimizer, YTDownloader, Shopper-Pro, Sense, and SpeeditupFree, and these may wary depending on the operating system you run. It is notable that some of these applications can be denied when running the Premium Installer which is supposed to update your allegedly out-of-date web browsers. Once the installation is complete you will discover that your browsers remain the same, and you are only provided with links to the official Chrome, Firefox, IE or Opera update web pages. It is clear that Updating-your-browser.org presented update is a scam to trick you into downloading third party software, and it is most likely that the developers of the fake pop-up will earn money for each successful attack. Do you want to help schemers earn money? Of course you do not, which is why you need to ignore fictitious update pop-ups and remove Updating-your-browser.org related software.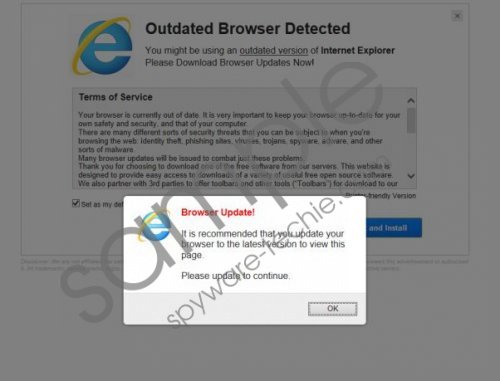 Updating-your-browser.org screenshot
Scroll down for full removal instructions
Do you know how to delete Updating-your-browser.org related browser extensions and PC applications? You may have already performed this manually. If you have not, you can find the removal instructions displayed below. Nonetheless, even though manual removal can help you delete undesirable software, it is possible that adware will remain running. To stop adware and to get rid of the disruptive online advertisements you may want to use automatic malware removal software which could locate and delete all adware-related components.
Remove undesirable programs
Remove from Windows XP:
Navigate to the Task Bar, click Start and open the Control Panel.
Double-click Add or Remove Programs from the appeared list.
Click the undesirable application and select Remove.
Remove from Windows Vista or Windows 7:
Open the Start menu from the Task Bar and select Control Panel.
Go to Uninstall a program and find the one you wish to delete.
Right-click the undesirable application and select Uninstall.
Remove from Windows 8:
Right-click on the Metro menu screen to open a pane at the bottom.
Click All apps, open the Control Panel and then go to Uninstall a program.
Find the program you wish to delete, right-click it and select Uninstall.
Delete undesirable extensions
Delete from Google Chrome:
Open the browser, simultaneously tap Alt+F and select Settings.
Under On Startup mark Open a specific page or set of pages.
Click Set pages and overwrite/remove the undesirable URL. Click OK.
Find Appearance and mark Show Home button.
Now click Change and overwrite/remove the undesirable URL. Click OK.
Under Search click Manage search engines and choose a new default search engine.
Locate the URL of the search engine you wish to get rid of and click X. Select Done.
Delete from Mozilla Firefox:
Launch Firefox and find the search box located at the top-right corner.
Click the search provider icon and select Manage Search Engines.
Select the undesirable search provider, click Remove and then OK.
Simultaneously tap Alt+T and select Options.
Click the General tab, change/remove the Home Page and click OK.
Delete from Internet Explorer:
Simultaneously tap Alt+T to open the Tools menu in your Internet Explorer.
Select Manage Add-ons and then go to Search Providers.
Choose a new default search provider, Remove the undesirable one and click Close.
Tap Alt+T again but this time select Internet Options.
Click the General tab and navigate to the Home Page box.
Overwrite/delete the presented URL and click OK.
In non-techie terms:
If you have downloaded a browser update from Updating-your-browser.org, it is possible that various undesirable programs are now running on your computer. To delete these applications you can use the manual removal instructions displayed above. You can also use automatic malware removal software, and the installation of this software is strongly recommended due to its ability to ensure reliable, full-time protection in the future. Do you want to run the operating system without fearing any risks? Then click the download button and install an authentic malware remover/Windows protector.
Aliases: Updating your browser virus.