Do you know what UnzipApp Toolbar is?
UnzipApp Toolbar is simply a new way for Mindspark Interactive Network, Inc. to make some easy money by your clicks on third-party ads and links that might be displayed via the third-party services this toolbar provides. However, there are certain risks you should be aware of if you have this browser extension on your computer. Many users do not even remember installing it. In that case it is quite possible that this toolbar is not the only infection on the computer. In order to be able to handle the possibly emerging security issues, you need to understand them first. By the end of our report you will learn why and how you should remove UnzipApp Toolbar from your system.
Usually you can download and install a legitimate version of the mostly useless and potentially harmful toolbars of the Mindspark family, and that applies to UnzipApp Toolbar as well, which can be found at unzipapp.com. But, unfortunately, there is another and more troublesome way for this toolbar to spread over the Internet. Similarly to MergeDocsOnline Toolbar and AutoPcBackup Toolbar, it can also be distributed in free software packages. Keep in mind, though, that not all of these free bundles are legitimate or reliable. Certain third-party installers might include all kinds of malware applications in a bundle, such as adware, browser hijackers, and other even more serious infections. If you are unlucky, and you have installed UnzipApp Toolbar from such a bundle, it is quite likely that you have more threats to worry about. Therefore, it is essential that after deleting UnzipApp Toolbar, you take care of all other related and potentially harmful applications, too.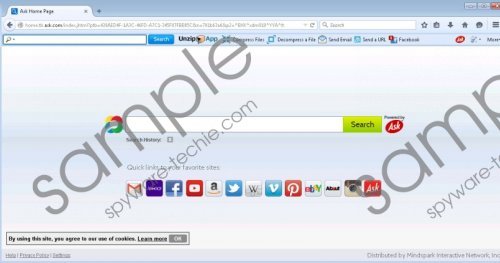 UnzipApp Toolbar screenshot
Scroll down for full removal instructions
UnzipApp Toolbar offers several third-party services to appear useful and valuable for users, including file compression, decompression, e-mail servers, and more. But as it is a free tool, the developer has to make money out it somehow. And that is where the third-party ads and links come into the picture. However, you need to be very careful with those advertisements as they can also be targeted ones. This toolbar collects all kinds of data about your browsing activities in order to be able to send customized ads and links to your screen. But here is what the EULA says about this:
You hereby acknowledge and agree that by using an MS Product you may be exposed to Content that may be offensive, indecent or objectionable in your community. You agree to accept all risks associated with the use of any Content, including any reliance on the accuracy or completeness of such Content.
You need to know that there is some danger involved when it comes to third-party services. For example, UnzipApp Toolbar is powered by Ask.com, which is a reliable search tool. However, when used via this toolbar, it is possible that you will be presented with modified search result pages that include sponsored links. Since there is no warranty that by clicking on any of these links you will land on reliable websites, the potential is there to get infected or even scammed. Therefore, it is important that you remove UnzipApp Toolbar from your computer.
Hopefully, by now, you understand why you should get rid of this toolbar as soon as possible. So let us see the "how" part. Unfortunately, if you go for the manual method, removing UnzipApp Toolbar requires a bit more than just simply running the uninstaller in Control Panel; you also have to reset all your browsers to make sure that the toolbar and Ask.com do not return in any form. Please use our instructions below to assist you in this endeavor. You also need to remember that there may be other unwanted tools or applications installed that can be a threat to your system. We do not recommend trying to tackle them manually. It would be much more comfortable and time-saving to use professional antimalware software that will give your computer full-time protection from any know infections.
How to remove UnzipApp Toolbar
Windows XP
Click the Start button and navigate to Control Panel.
Click Add or Remove Programs.
Remove the toolbar.
Windows Vista and Windows 7
Open the Start menu and select Control Panel.
Click Uninstall a program.
Uninstall the toolbar.
Windows 8 and Windows 8.1
Tap Win+R and type in control panel. Click OK.
Access Uninstall a program.
Uninstall the toolbar.
How to reset your browsers
Google Chrome
Press Alt+F and select Settings.
Click Show advanced settings at the bottom of the page.
Scroll down again and click Reset settings.
Click Reset.
Mozilla Firefox
Tap Alt+H simultaneously and navigate to Troubleshooting Information.
Press Refresh Firefox at the top of the page.
In the pop-up window press Refresh Firefox again and press Finish.
Internet Explorer
Press Alt+T and access Internet Options.
Select the Advanced tab and click Reset.
Mark the Delete personal settings checkbox and press Reset.
Press Close.
In non-techie terms:
UnzipApp Toolbar is a browser extension that might expose you to certain security threats. It is not safe to keep this toolbar on your system as you might be presented with potentially questionable third-party advertisements or links via third-party services. These can also be customized to suit your preferences to make sure that you click on them. Please keep in mind that criminals might use this method to lure you to their infected or fake websites. In order to protect your system and privacy, you should remove UnzipApp Toolbar from your PC. The safest solution is to install a trustworthy antimalware program that will take care of all the security-related issues and safeguard your PC.