Do you know what Universal PC Mechanic is?
Despite being advertised as a useful and advanced PC optimizer, Universal PC Mechanic falls under the classification of potentially unwanted programs. This category does not mean the application is malicious; however, it does not say it can be trusted either. In fact, our computer security specialists even doubt the software's usefulness as it seems the free Universal PC Mechanic's version does not allow to do much. To be more precise, it looks like it might only detect old Registry data that should not cause any problems, which means eliminating them should make no difference to the system's performance. Nonetheless, the potentially unwanted program does not even allow to delete such data without purchasing the full version of it, but we do not recommend it. If you decide not to invest in it, we would recommend erasing the application with our removal guide located below the article. Also, we invite users who wish to learn more to read the rest of this text.
One of the places where users could find and download Universal PC Mechanic is its official website (smartsystools.com), although we doubt a lot of users could find it without knowing the application's title. Therefore, it is entirely possible the software might be distributed via annoying pop-up ads that may contain links to the mentioned web page. Moreover, some users may encounter the potentially unwanted program accidentally after downloading bundled setup files from questionable file-sharing web pages. Mostly, it happens when users pay no attention to the installation process and just click "Next" or other options alike to make the chosen program install faster. Unfortunately, by rushing this process, the user could overlook additional tools bundled with the setup file and so they might be installed automatically without any further notice to the user. This is why the next time you receive a setup file from an unreliable source you should pick advanced installation settings and read all provided terms carefully.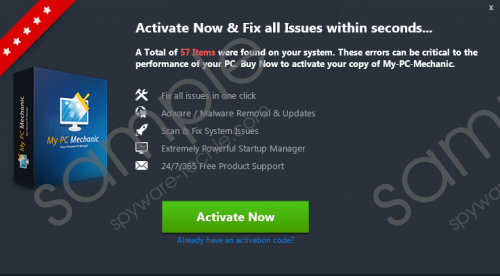 Universal PC Mechanic screenshot
Scroll down for full removal instructions
If you believe the potentially unwanted program's description; "it improves the performance of your system to an unexceptional level" and helps you "Manage all your system issues." To see if the application actually works this way our computer security specialists performed system scans with it and tried to remove the detected issues. The only problems located by it were old Registry keys, and according to our researchers, their deletion would not make any difference. After pressing the deletion button, Universal PC Mechanic asked to purchase its full version and did not allow to solve any issues. The price for full versions was about 29 US dollars. There are free antimalware tools that not only scan the system but also eliminate detections for no payment at all, so we do not think it worth or wise to purchase a tool like Universal PC Mechanic when you do not even know if it will be of any use to you.
For users who do not plan to risk their money while buying the full version of Universal PC Mechanic, we recommend erasing it as fast as possible. If the application stays on you will be reminded to buy the full version each day, not to mention, there is no use in a tool that does not solve issues. To get rid of the potentially unwanted program manually, users could follow the removal guide available a bit below as it will explain the process in detail. Those who prefer automatic features could install a reputable antimalware tool of their preference and let it deal with this questionable application.
Erase Universal PC Mechanic via Control Panel
Windows 8 & Windows 10
Launch the RUN by pressing Windows Key+R.
Type Control Panel and click OK.
Select option Uninstall a program.
Locate the application and press Uninstall.
Windows Vista& Windows 7
Open the Start menu and choose Control Panel.
Pick Uninstall a program.
Select the program and click Uninstall.
Windows XP
Click on Start and pick Control Panel.
Select Add or Remove Programs.
Find Universal PC Mechanic and select Uninstall.
In non-techie terms:
Universal PC Mechanic might seem like a tool that could boost your system and make the computer work faster, but in reality, it looks like the application does not have such abilities. According to our computer security specialists, the software may detect issues that may not change anything and what's even more suspicious the free version does not allow to solve any problems. Naturally, without being able to test the application's qualities properly, we would not recommend wasting any money on it. If you think it might be not worth your savings as well; we suggest getting rid of this potentially unwanted program with no hesitation. To do so manually you could follow the removal guide available a bit above this text. On the other hand, if you are willing to install a reputable antimalware tool you could use it to get rid of this suspicious software too.