Do you know what Uninstall Master is?
The Internet is swarming with redundant applications like Uninstall Master, which has been found a questionable program by our researchers after careful testing in our internal lab. As a matter of fact, our researchers have labeled it as a potentially unwanted program, or PUP, because it might indirectly put your system security at risk. Normally, PUPs cannot be called dangerous applications, such as Trojans and ransomware. Some PUPs may simply not function properly, but some may come on board in a bundle packed with malware infections. This software seems to belong to the latter group as it may be found in free software packages. Even if this program functions properly, because we cannot claim otherwise, there are certain behaviors that make it questionable and therefore unreliable, not to mention the fact that it is completely redundant as your Windows operating system has practically the same uninstall tool. We believe that you should remove Uninstall Master in order to keep your system clean of potential risks. But this may not be the only threat to eliminate. For the details, please continue reading our report.
According to our researchers, it is possible that you download and install this PUP through a freeware bundle. You must know about bundles that they are not always legitimate; or should we say, there may be more malicious ones nowadays than you would think. Unfortunately, criminals may use these software packages to "smuggle" malware programs onto your computer. These malicious bundles may contain adware programs, Trojans, browser hijackers as well as potentially unwanted programs. Imagine installing such a lot onto your system. How do you think this would change the vulnerability of your computer and your exposure to cyber criminals and their online scams?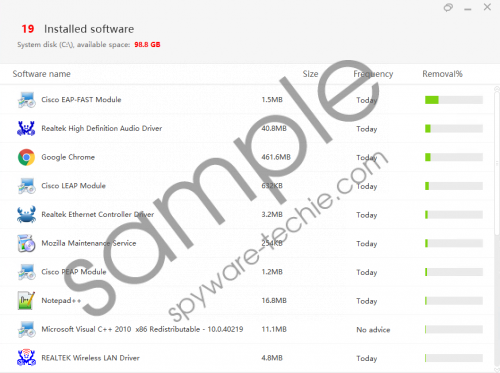 Uninstall Master screenshot
Scroll down for full removal instructions
It is worth mentioning that such bundles are mostly promoted through shady websites associated with file sharing, dating, and pornography. Therefore, you should be very careful visiting such pages because they are filled with potentially harmful third-party advertisements that may be disguised as the page's content. If you click on such content, you may open malicious new tab pages, drop a bundle onto your computer, or get redirected to a malicious website where you may become a victim of an online scam. We advise you to refrain from landing on such sites and clicking on third-party ads as well.
This application has an official site, too, uninstallmaster.com. You can directly download this program here. You should know that this installer makes you to accept the installation of Mystart.uninstallmaster.com as well, which is a potential browser hijacker. This questionable promoted search engine may introduce you to modified search results, which means that you could be exposed to unsafe content. Once again, clicking on a corrupt link or ad could result in your being taken to fake websites operated by cyber criminals. We advise you to delete Uninstall Master from your system, if you see why you cannot trust this application.
This program does nothing special as a matter of fact. It actually offers the same service as the uninstall tool that is a built-in component in your Windows OS. The only difference may be an extra column in the list of installed programs this PUP shows you. This extra column displays a percentage value assigned to each application according to the level of urgency to remove them. We must also tell you that the uninstall function seems to work fine. The more problematic areas surrounding this application we have already mentioned above. Since we cannot consider this PUP as a totally reliable and useful program, we recommend that you use the built-in uninstaller of Windows or search the web for reliable and reputable free software. But whenever you find one, you should also run a web search on it to see how reliable it really is because you may find out that your target application is potentially harmful. This information could save you from a lot of unnecessary headaches. We believe that you have heard just enough reasons from us to make up your mind and remove Uninstall Master.
It is time for us to talk about the solution as well. Fortunately, it is not difficult at all to delete Uninstall Master from your computer. Our researchers have found that the uninstaller of this PUP may leave behind some mess in the %AppData%\Uninstall Master folder that needs your attention. We have included step-by-step instructions for you in order to make sure that no leftovers remain on your system. If you want real peace of mind and proper level of virtual security, we recommend that you protect your computer with a reliable anti-malware application.
Uninstall Master Removal from Windows
Windows XP
Tap Win+R and type in Control Panel. Press OK.
Access Add or Remove Programs.
Select the program and press Remove.
Windows Vista/Windows 7
Click on the Windows button on the Taskbar.
Choose Control Panel.
Click Uninstall a program.
Select the program and press Uninstall.
Windows 8/Windows 8.1/Windows 10
Tap Win+Q and type in Uninstall a program. Press Enter.
Select the program and press Uninstall.
Leftover Removal
Tap Win+E to open File Explorer.
Find the "%AppData%\Uninstall Master" folder and delete it.
Empty the Recycle Bin.
In non-techie terms:
Uninstall Master is a totally useless and redundant application that might pose an indirect threat to your virtual security. Our researchers have classified it as a potentially unwanted program for a reason. This application installs a potentially unreliable browser hijacker that may present to you questionable content in the form of manipulated search results. It is also possible that this software boards your computer along with malware infections, which would make your system even more vulnerable to cyber criminals. If you want to end this kind of exposure and threat, you should remove Uninstall Master and all other infections as well. If you do not want to go on a malware hunt on your own, you should start using reliable security software to protect your PC.