Do you know what Unideals is?
Quite a few users have recently encountered an application known as Unideals. It must be stated that Unideals is just one more adware application that acts quite invasively and might even cause further virtual security problems. Unfortunately, some users might be lured by the misleading marketing strategies employed by the publishers of this application. The official website presents you with promises: You will be shown discount deals, special offers, and coupons. All of this should make shopping online a very user friendly experience, while saving you money and time. Unfortunately, these promises are hoaxes, to say the least. The ads provided by Unideals are utterly worthless -- and there is even something worse. Unideals will likely expose your system to third-party suspicious web content. Do not put your PC at risk by running this invasive adware. As soon as Unideals is located on your operating system, a thorough removal of Unideals is a must.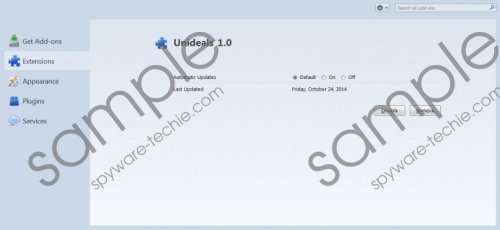 Unideals screenshot
Scroll down for full removal instructions
Malware experts at Spyware-Techie.com conducted an in-depth analysis of this Internet-based infection. Allen Husher, a part of our research & analysis team, was the one that was assigned this project. He has discovered that Unideals is based on the JustPlugIt engine. Applications known to be based on this engine include Smart Ones, SaleMaker, WinSpeeder, and many others. Thus, it is not surprinsing that Allen has pointed out some similarities between Unideals and other suspicious programs. Unideals, like many of its counterparts, will install browser extensions once it successfully enters your operating system. The extensions are used to display those third-party adverts and various annoying pop-ups. If you wish to regain the normal functionality of your browser, complete removal of Unideals is essential.
Unfortunately, the annoyance caused by Unideals is not all that this application does. Allen has discovered that some files could be used by other Internet-based infections as a gateway into your PC. Often adware applications are capable of updating themselves silently. Due to that, some files or registry entries could trigger a download of some suspicious third-party program, which, in fact, could turn out to be malware. It is obvious that Unideals is a risky business, to put it mildly. Removal is a must if you wish to maintain a system free of any kind of Internet-based infections.
Fortunately, the removal process is rather simple, as you can delete Unideals via Control Panel. Once the manual removal is executed, we strongly advise you to recheck your operating system for potential leftovers of Unideals, as traces of the infection could still be used as a backdoor entry. Do not hesitate to delete Unideals immediately.
How to remove Unideals
Remove Unideals from Windows 7 and Windows 8
Click the Windows button and select Control Panel.
Click Uninstall a program.
Select Unideals and click Uninstall.
Remove Unideals from Windows 8
Access the Metro UI menu and right-click on the background.
Select All apps and click Control Panel.
Click Uninstall a program.
Double-click Unideals.
Confirm that you want to remove Unideals.
Remove Unideals from Windows XP
Click the Start button.
Select Control Panel.
Click Add or Remove Programs.
Select Unideals and click Remove.
In non-techie terms:
Manual removal might not suit every user's needs, which is why we provide instructions below for an automatic removal. Please follow them carefully.