Do you know what Unfriend Alert is?
Do you want to know who has removed you from their friends' list? If you do, Unfriend Alert might seem like a very useful application. Unfortunately, most computer users find that this program is completely worthless. If that were not enough, this program is also known for injecting ads and promoting third-party software. Due to this, instead of identifying Unfriend Alert as a helpful app, we call it an unreliable advertisement-supported program. If you want to learn how to delete Unfriend Alert from your operating system and what could happen if you do not, this is the article you need to read. Our expert malware researchers have tested this adware in our internal lab to present you with the most recent findings.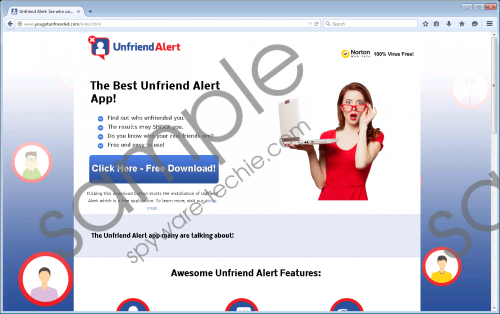 Unfriend Alert screenshot
Scroll down for full removal instructions
If you have not downloaded Unfriend Alert from yougotunfriended.com, it is most likely that you have downloaded it using third-party installers. Depending on the distributor promoting this adware, you could be offered the installation of malicious programs. Needless to say, malicious programs are always disguised as legitimate and trustworthy software; otherwise, users would never let them in. Keep in mind that the developer of Unfriend Alert might have nothing to do with the infections presented by third-party distributors. However, if you find this company promoting malicious software, you might use it as a motive to remove Unfriend Alert from your operating system. Of course, the greatest reason to delete this ad-supported program is the suspicious advertisements injected by it. Just like News Alert, Storm Alert, and other identical programs, Unfriend Alert can showcase harmless and misleading ads. If you are wise, you will ignore these ads and immediately delete the unreliable adware.
The manual removal instructions posted below show how to remove Unfriend Alert from Windows. Select the operating system you use, and follow the instructions to eliminate this adware from your PC. After this, install a trusted malware scanner to inspect your operating system. This tool is important for two reasons: First of all, it can help you ensure that the manual removal of Unfriend Alert was performed successfully. Second, a reliable scanner will also identify other infections. Running this scanner is important in all cases, but it is of particular importance if you have downloaded Unfriend Alert bundled with third-party software. If the scanner recommends removing other infections, make sure you do! If these infections stop you from installing reliable security software, you can use the guide posted below this article. These instructions will help you install an up-to-date, reliable malware remover.
How to delete Unfriend Alert
Delete from Windows XP
Move to the Taskbar and click the Start button.
Open Control Panel and move to Add or Remove Programs.
Click the undesirable program and select Remove.
Delete from Windows Vista & Windows 7
Click the Windows icon on the left of the Taskbar.
Open Control Panel and click Uninstall a program.
Right-click the app you want to remove and select Uninstall.
Delete from Windows 8 & Windows 8.1
Tap Win+R to launch RUN, type Control Panel, and click OK.
Move to Uninstall a program and find Unfriend Alert.
Right-click the app you want to remove and select Uninstall.
In non-techie terms:
Unfriend Alert is an advertisement-supported program that can inject ads. The problem with this is that the parties associated with these ads are not disclosed, which is why you need to consider their being unreliable. Even if you are sure that you can identify misleading ads and avoid getting scammed, our research team recommend removing Unfriend Alert from your PC right away. If the manual removal does not work out for you, there is no doubt that automated malware removal software will eliminate this adware successfully. As mentioned previously, the instructions below will help you install anti-malware software if malware has corrupted your PC already.