Do you know what UnblockUPC Ransomware is?
UnblockUPC Ransomware is a devious computer infection that should be avoided at all times. It is critical to do so even though out researchers have discovered that the malware in question does not perform in the way that other ransomware programs usually do. This means that it is yet unable to encrypt your personal data without any authorization or notification. It is important to note that the malicious application uses devious scare techniques to lure money out of unsuspecting Internet users. It is also imperative to highlight that there is a possibility that this intrusive application could shortly become fully functional; thus, we highly advise you to remove it if it is ever found active on your personal computer. In this article be present further information about UnblockUPC Ransomware and its complete removal guide that will allow you to delete it without encountering any major problems.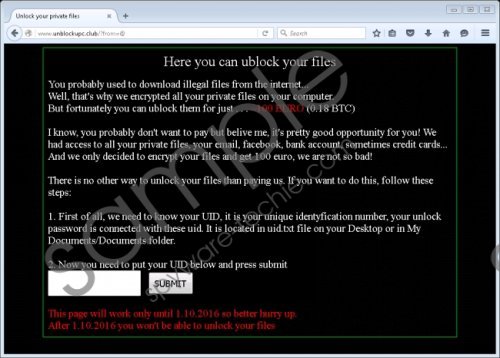 UnblockUPC Ransomware screenshot
Scroll down for full removal instructions
Unlike the majority of ransomware programs, UnblockUPC Ransomware does not lock your personal data upon its entrance. Instead, you are only presented with a warning message. This message appears on top of all the windows that are currently opened on your personal computer. The text presented to you is in red bold capital letters. It informs you that your personal files have been encrypted because you downloaded software illegally from the Internet. Also, you are presented with a number of website address that you should visit if you want to regain access to your data. You can close down this invasive message by tapping the Delete key on your keyboard. It is crucial to keep in mind that in reality none of your files are actually locked. This message is purely a scare technique used to lure money out of naive Internet users. Under no circumstances visit any of the sites that are presented within the warning message as it could have unwanted and detrimental outcomes. If you happen to enter any of those web pages, do not pay any money to the cyber crooks that developed this invasive application as it is an utter waste of it. It is critical to remove UnblockUPC Ransomware as soon as it is detected running on your PC since it could become fully functioning at any time, which could result in a huge data loss. Do not hesitate and use a detailed removal guide that we present below.
While conducting the investigation of UnblockUPC Ransomware it has been discovered that in the majority of instances this malicious application is distributed via spam e-mail attachments. Even though the majority of such e-mails are automatically placed into your junk folder, some of them might sneak into your main inbox. Thus, we highly advise you to never download any attachments coming your way from unknown senders. This way you will be able to dramatically reduce the chances of infecting your operating system in such a manner. Also, we highly advise you to bypass all third-party websites as they could prove to be designed by malware creators. Thus, it is not surprising that in some cases just entering such websites could prove to be quite dangerous. In situations you could enter web pages embedded with an arbitrary code execution exploit and just landing on them could prove to be enough to get your PC infected with some unknown malware. Finally, your best bet to keep your personal computer safe and secure at all times is by installing a professional antimalware tool. Make sure to obtain one if you do not have one already. This is critical since it can detect and warn you about any suspicious program in advance. Taking such precautionary steps will improve your overall virtual security hugely.
The complete removal of UnblockUPC Ransomware must be executed as soon as possible to avoid a potentially harmful functionality that it could prove to exhibit. The instructions that we present below must be followed with care as a mistake could mean that the removal was incomplete. To be sure that you have terminated UnblockUPC Ransomware in its entirety make sure to execute an in-depth analysis of your personal computer for potential leftovers linked to this malware.
How to remove UnblockUPC Ransomware from your PC
Open your File Explorer.
Go to C:\Users\[your username]\Downloads.
Locate a malicious .exe file embed by this ransomware and the remove it. Keep in mind that it is named randomly.
In non-techie terms:
If you believe that manual removal as well as analysis of your operating for potential traces linked to UnblockUPC Ransomware is a bit too complicated, make sure to follow the instructions that we present below. This alternative removal guide crafted by malware experts at Spyware-Techie.com will allow you to get rid of this malware in an automatic manner.