Do you know what UmbreCrypt Ransomware is?
UmbreCrypt Ransomware is a sinister computer infection that is classified as ransomware. This means that when this program enters your computer, it demands that you pay a ransom fee to get your files back. Aside from being a ransomware application, the program also encrypts a list of files by scrambling the sequences of bytes in them, making them unreadable. This is why UmbreCrypt Ransomware asks you to pay the ransom: It says it will decrypt your files if you do so. Nevertheless, there is no ground to believe that the ransomware will keep its word. Your best option in this situation is to remove the infection for good.
According to our research, UmbreCrypt Ransomware comes from the same group of encryption ransomware applications as HydraCrypt. The program uses the AES encryption method, and that is the most common encryption system used by such threats. The fastest and the easiest way to regain your data is to restore it from an external backup. If you do not have you, try checking your mailbox for the most recent and the most important files. Also, it might be a good idea to address a professional technician or a software expert for any insight on the situation you are in. Although the infection is fairly new, there are already third party tools available that can help you decrypt your files if you do not have any backup.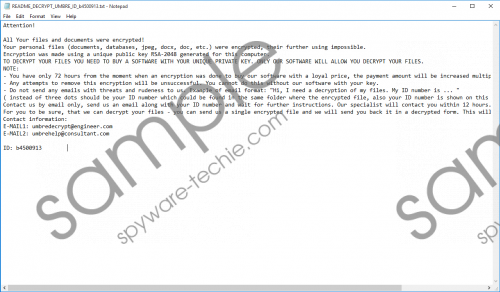 UmbreCrypt Ransomware screenshot
Scroll down for full removal instructions
It is not quite clear yet as to how this infection gets distributed around the web. Some users claim that UmbreCrypt Ransomware must have been installed manually, which would imply that the hackers connect to target computers via remote desktop connections or hacked terminal services. However, HydraCrypt and other infections from the same group are known to be traveling around through exploit kits. Exploit kits are software systems that are embedded in particular web servers, and when a user lands on an infected website and clicks a vulnerable component, the exploit kit in that vulnerable component automatically redirects the user to a third party website which is part of the ransomware distribution network.
This just shows that users have to be extremely careful when they land on unfamiliar websites, and it is very important to make sure that your remote desktop connections and other systems that may connect you to the network behind your back DO NOT do that. The unclear distribution system aside, it is really easy to see that you have been infected with UmbreCrypt Ransomware. The program will provide you with a notification that will pop up on your screen. The notification will say the following:
All your main files were encrypted!
ID: [individual computer ID]

Your personal files (documents, databases, jpeg, docx, doc, etc.) were encrypted, their further using impossible.

TO DECRYPT YOUR FILES YOU NEED TO BUY A SOFTWARE WITH YOUR UNIQUE PRIVATE KEY. ONLY OUR SOFTWARE WILL ALLOW YOU DECRYPT YOUR FILES.
After this, the program says that you have 72 hours to contact its creators by sending an email message. The two email addresses are given at the bottom of the notification, and once you send the messages out, you should receive a reply with instructions how you have to pay the ransom fee. Unless you contact these criminals, you will not know how much you need to pay. Normally, a ransomware infection requires paying around $500 for the decryption key. It is also more likely that the amount would be lower than higher.
Luckily, though, UmbreCrypt Ransomware does not lock your screen, so you can remove this infection if you want to. As far as your files are concerned, you may need to have an original of one of the infected files to decrypt them. The decryption tool makes use of the Brute Force method to restore your files. This method tries out every possible combination to break the encryption code. The method can be applied because the ransomware creators make a mistake in the encryption algorithm, although you should keep in mind that Brute Force may take from several minutes up to several days to actually work.
In the meantime, you should make sure that you delete all the malicious files associated with UmbreCrypt Ransomware from your computer. While you are at it, do not hesitate to acquire a powerful antispyware tool that would help you protect your computer from similar infections in the future. After all, this ransomware infection may not be the only unwanted programs on-board.
How to Remove UmbreCrypt Ransomware
Delete Registry Values
Press Win+R and the Run prompt will open.
Enter regedit into the Open box and click OK.
Go to HKEY_CURRENT_USER\SOFTWARE\Microsoft\Windows.
Check out the right-pane for the registry values and remove the following:
ChromeRandomAdress3264 REG_SZ havuwifi.exe
ChromeSettiings3264 REG_SZ C:\Users\user\AppData\Roaming\ChromeSetings3264\*.exe
ChromeStarts3264 REG_SZ C:\Users\user\AppData\Roaming\ChromeSetings3264\*.exe
MicrosoftUpd32 REG_SZ dENx7zcCXtZSkoqHQUxNxBnA5aM2QvK7Ko6fLx2PrnwaKhG2kMmmv6IW9a5VwqKrzUW6LwBloHwWfLRv627KSaWHcXGP5FKVTyzmqRS5
Note: *.exe refers to an executable file with a randomly generated name. The random names should be the same across different registry values.
Delete Registry Keys
Press Win+R and type regedit.
Click OK and go to HKEY_CURRENT_USER\SOFTWARE\Microsoft\Windows\CurrentVersion\Explorer\FileExts\.umbrecrypt_ID_*.
Delete the .umbrecrypt_ID_* key.
Navigate to HKEY_CURRENT_USER\SOFTWARE\Microsoft\Windows\CurrentVersion\Explorer\RecentDocs\.umbrecrypt_ID_*.
Delete the .umbrecrypt_ID_* key.
Note: the * in .umbrecrypt_ID_* refers to a unique user ID that is assigned by the ransomware to your computer upon the infection.
Remove Files and Folders
Press Win+R and type %AppData%.
Remove the ChromeSetings3264 folder from the directory.
Open Computer and go to Local Disk (C:).
Open Windows and go to Tasks.
Delete the .umbrecrypt_ID_* file.
In non-techie terms:
UmbreCrypt Ransomware is a dangerous computer infection that wants to steal your money. It cannot do that unless you allow it to, so do not succumb to its threats. Remove UmbreCrypt Ransomware from your system immediately and refer to professional decryption tools that will help you restore your files. Please protect your system from similar infections, and do not hesitate to contact us if you need any further assistance with malware removal, or you have any questions about how to ensure your computer's security.