Do you know what ULyrics is?
ULyrics is a piece of software which acts like a very useful tool because it claims to be able to find any lyrics on YouTube and display them alongside the music video you listen to. However, you should not believe it blindly because it does not accent the fact that it will show you various advertisements as well. This feature let us classify it as adware. It will work on Google Chrome, Mozilla Firefox, and Internet Explorer. It means that it manifests itself on three the most popular browsers which are used every day. Thus, you should remove ULyrics if you do not want your daily browsing routine disturbed.
There is another serious reason why you should not trust ULyrics and delete it from your system. This adware tends to collect non-personally identifiable information; however, most people still think that such information as browsing history, the time they spend on particular websites and their activities on them as well as the keywords that they enter into the search box is still rather private. Besides, as ULyrics states in its Privacy policy, this information is shared with the third parties in order to be able to provide you with high quality service and show you more relevant advertisements.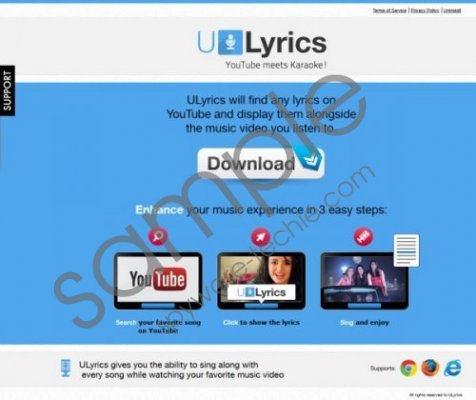 ULyrics screenshot
Scroll down for full removal instructions
ULyrics can be downloaded from its official website which is ULyrics.co; however, it is also known that it might come bundled together with other programs, especially free software that you can download freely from the internet. ULyrics and similar programs are likely to be attached to PDF converters, video recorders, and other tools. When you install the program, you should always select custom installation in order to be able to decide which programs you want to install on your system and which do not. If you do not unmark the components that come together with the particular program, all of them will end up on your personal computer.
As ULyrics shows various advertisements, including coupons, best deals, full-screen, pop-up, and pop-under advertisements, there is always a possibility that you will visit a website whose content is unknown or even might cause harm to your security. If you click on the advertisements that you notice while you are browsing the web, you will definitely be redirected to other websites. As ULyrics is not responsible for the material of the third parties, you will never know whether the website is corrupted or not.
As you can see ULyrics is more harmful than beneficial, which is why we recommend that you remove it. Manual removal is possible in this case and you can use instructions that we have provided for you. However, if you do not rely on your own, you should use a reliable tool which will automatically remove ULyrics. We recommend that you use SpyHunter. It is a good tool which will definitely remove the existing threats and erase the future ones.
Remove ULyrics
Windows XP
Open the Start menu.
Go to Control Panel.
Select Add or Remove Programs.
Click on the application which you want to remove.
Click the Remove button.
Windows Vista and 7
Click the Start button.
Go to Control Panel.
Select Uninstall a program.
Right-click on the program which you want to remove.
Click the Uninstall button.
Windows 8
Move the cursor to the bottom right edge of the screen.
When the Charm Bar appears, select Search.
Type in 'Control Panel' and press the Enter key.
Select Uninstall a program.
Right-click on the unwanted application.
Click the Uninstall button.
In non-techie terms:
ULyrics is not the most useful application. It will not only show lyrics, but also display various advertisements. You definitely should not trust it because it has more drawbacks: it might violate your privacy and lead you to potential threats, which is why spyware-techie.com specialists recommend that you remove it.
Aliases: U Lyrics.