Do you know what Ultimo Ransomware is?
Ultimo Ransomware seems to be a new malicious file-encrypting application based on open-source ransomware known as Hidden Tear. When it comes to such threats, we usually advise users to try to decrypt their data with a decryption tool created for Hidden Tear Ransomware, but in this case, it might be unnecessary. Our researchers say the sample they tested did not lock any data or leave a ransom note. It means the malware might be still in the development stage and may not work correctly. Therefore, we advice eliminating Ultimo Ransomware with no hesitation. Even if it encrypts your files and shows a ransom note, we would recommend deleting it just the same. As said earlier there are decryption tools you could use to unlock effected data instead of paying to the hackers behind this malicious applications. Later in the text, we will explain more about the infection's working manner and why it might be dangerous to deal with the cybercriminals. However, if you only wish to erase this threat, we encourage you to slide below this text and use the provided removal guide.
It is possible the malware could be distributed via malicious email attachments. In such case, the user may infect the system unknowingly by launching such a file. This is why we always advise being cautious with Spam emails, attachments from unknown senders, and other suspicious content received via email. If you think it might be important, but have a feeling it could be dangerous as well, we recommend scanning such an email attachment with a reputable antimalware tool. Performing a simple scan on the suspected file would allow you to learn whether it is harmful or not in a couple of minutes and most importantly without risking your computer's safety. What's more, to avoid threats like Ultimo Ransomware our computer security specialists say it would be smart to stay away from untrustworthy file-sharing web pages as some infections are being distributed with bundled software installers that can be found on torrent and other sites alike.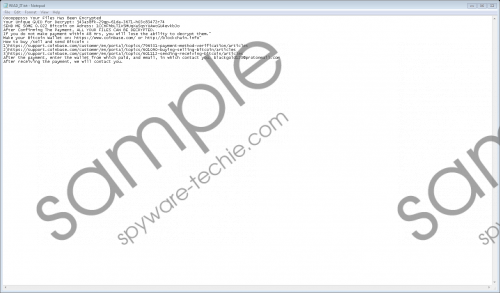 Ultimo Ransomware screenshot
Scroll down for full removal instructions
After Ultimo Ransomware settles in it is programmed to encrypt text documents, pictures, photos, and other personal data on the computer, but as said earlier our encountered sample did not act this way. Our computer security specialists say the infection may mark its encrypted files with .locked extension, e.g., photo.jpg.locked, text.docx.locked, and so on. If the malicious application is able to do so it should create a ransom note too; it is supposed to be called READ_IT.txt and might be placed on the user's Desktop. The message on it should ask to pay a particular price in Bitcoins. The user might be given only 48 hours to comply with the demands, but instead of rushing we recommend erasing the malware. As explained earlier, it is quite possible the files could be decrypted with a free decryption tool created for Hidden Tear Ransomware since Ultimo Ransomware is based on it. Not to mention, even if you pay the ransom there are no guarantees the cybercriminals will hold on to their word. Unfortunately, they may not bother to help you or could ask for more money.
It seems to us the smartest choice would be to eliminate the malware at once. Users who feel up to the task could follow the removal guide provided at the end of this text as it will explain how to erase Ultimo Ransomware manually. The other way to get rid of it is to employ a reputable antimalware tool, set it to scan the system, wait for the results and then delete all identified threats by pressing the given removal button.
Ease Ultimo Ransomware
Click Ctrl+Alt+Delete simultaneously.
Pick Task Manager.
Take a look at the Processes tab.
Locate a process related to the malicious application.
Select this process and press the End Task button.
Click Windows Key+E.
Navigate to the suggested paths:
%TEMP%
%USERPROFILE%Desktop
%USERPROFILE%Downloads
Find a file that was launched when the system got infected.
Right-click the malicious file and select Delete.
Check your Desktop and erase the ransom note.
Leave File Explorer.
Restart the computer.
In non-techie terms:
Ultimo Ransomware is no doubt a malicious application as it is possible it could encrypt your files and show a ransom note demanding to pay a ransom for the data's decryption. Keep it in mind the cybercriminals cannot be trusted, and there is not knowing whether they will hold on to their word. Thus, if you do not want to risk to get scammed, we encourage you not to hesitate anymore and eliminate this threat at once. In case it encrypted any files you would like to recover we recommend trying a decryption tool created for a malicious application this infection was based on; it is called Hidden Tear Ransomware. As for the malware's deletion, there are a couple of ways to get rid of it. Users who feel more experienced could try dealing with it manually. The removal guide available a bit above will explain how to achieve it step by step. On the other hand, if it appears to be a bit too complicated you could employ a reputable antimalware tool instead, perform a system scan, and then allow it to delete all detections for you by pressing the removal button.