Do you know what Ultimate Shopping Search is?
Ultimate Shopping Search is a browser extension which is advertised as a beneficial piece of software that can enhance the search experience. If you check its official website ultimateshoppingsearch.com or its description in the Chrome Web store (chrome.google.com/webstore/detail/ultimate-shopping-search/eiibddcohpjhajbnfkpboacmohommppp?utm_source=chrome-app-launcher-info-dialog), you will see that it not only promises to improve the users' web searching experience, but also provide shopping recommendations. Evidently, users believe that this piece of software can work beneficially because there are thousands of people who have already installed it on their computers. Despite the fact that Ultimate Shopping Search is quite popular, it seems that not all the users keep it installed after downloading it from any of its official sources. It should also be noted that not all the users install it willingly on their browsers. In the opinion of our malware analysts, Ultimate Shopping Search is not an application users should keep installed on their computers no matter how they got it. First of all, it is not as beneficial as it claims to be (you will quickly realize that after installing it). Also, it has several drawbacks which make it a potentially unwanted program (PUP). Continue reading to find out more about that.
Ultimate Shopping Search is just a potentially unwanted program, so it does not try to hide from users – you will see after installing it a new browser extension with the unique ID eiibddcohpjhajbnfkpboacmohommppp in the list of add-ons. Our guys have noticed that Eshield Safe Search (it is also a potentially unwanted application) also uses the same extension ID, which shows that these two applications are somehow associated, e.g. they might be developed by the same company. Once Ultimate Shopping Search is inside the system, it adds a button (it is located next to the browser's address bar) which opens a search box "Web and Shopping Search." If you enter a search query in it, Yahoo! search results will be opened for you. Unfortunately, it does not mean that these search results should be trusted blindly. According to our researchers, the so-called modified search results might be placed among the decent ones. They are shown for users expecting that they will click on them and thus the developer of the extension will get money. What is more, users might start seeing third-party ads on their screens after the installation of Ultimate Shopping Search. Do you already see them? Uninstall this browser extension from all affected browsers to stop the flow of irritating commercials.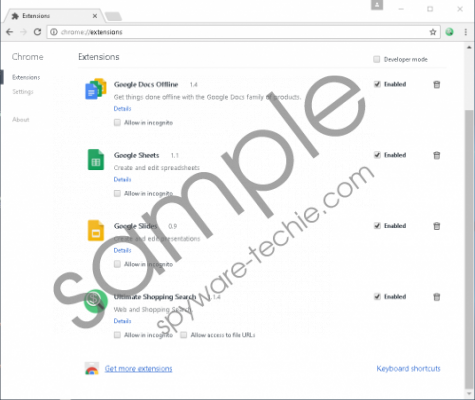 Ultimate Shopping Search screenshot
Scroll down for full removal instructions
Users should not keep Ultimate Shopping Search installed if they do not want this browser extension to find out their physical location, manage their apps/extensions/themes, and read data on visited websites. Users usually do not know that they give Ultimate Shopping Search permission to act like this by installing it on their browsers. Actually, not all extensions require permission to perform these activities, which makes this piece of software a suspicious one immediately.
There is yet another reason Ultimate Shopping Search has been classified as a potentially unwanted program. It is evident that it is spread using alternative distribution methods too because users report that they have it installed although they are sure they have not done that voluntarily. Most probably, the bundling method is used, i.e. it comes bundled with third-party applications. It is, of course, not the most important thing how it has shown up on the system because it would still be best to remove it. The last paragraph focuses on the deletion of this browser extension.
Remove the Ultimate Shopping Search extension from Mozilla Firefox and Google Chrome browsers to uninstall it completely. The button opening a search tool added on browsers will disappear after erasing this potentially unwanted program too. If you are going to delete an add-on for the first time, we highly recommend following our manual removal instructions. Do exactly as instructed to fully delete it.
Delete Ultimate Shopping Search manually
Mozilla Firefox
Open Mozilla Firefox.
Tap Ctrl+Shift+A.
Find the Ultimate Shopping Search extension listed and select it.
Click Remove.
Google Chrome
Launch your Google Chrome web browser.
Open its menu (press Alt+F).
Click More tools.
Open Extensions.
Find the unwelcome extension and click on the Recycle bin button.
Confirm the deletion by clicking Remove.
In non-techie terms:
Ultimate Shopping Search cannot be considered a dangerous malicious application, but it might still be associated with certain issues, so it is not such a good idea to keep it installed. If you decide to delete it, do not forget to take care of untrustworthy software which has been installed on the system next to it. The quickest way to detect suspicious applications and remove them is to scan the system with a reputable malware remover.