Do you know what Tyrant Ransomware is?
If you ever come across a program that goes by the name of Tyrant Ransomware make sure to avoid it at all costs. Malware experts at Spyware-Techie.com advise you to do so since this malware functions in an extremely malicious manner. Just like any other application of this classification, the one in question can easily lock vast amounts of data without any notification or authorization. It should be quite obvious that having such malicious program active on your PC could have disastrous outcomes, to put it lightly. If you wish to have a better understanding of how this malware functions, be sure to read the rest of this report because we provide in-depth information regarding this topic. You will also find a few virtual security tips that should help you keep your PC safe and secure at all times. To help you delete Tyrant Ransomware, we also include a comprehensive removal guide.
During the initial analysis of Tyrant Ransomware, malware experts have discovered that this malicious program is fully compatible with all currently active Windows operating systems. Such broad compatibility signifies the fact that a lot of users could be affected by this malicious program; thus, being aware of its existence could help you maintain a fully secure operating system. The overall functionality of this ransomware program does not differ all that much from other applications of this category. As soon as it enters your operating system, it immediately determines the contents of your hard drive. The next step in the chain of action is the encryption procedure, which is completely silent. Due to such nature of functionality, the majority of users are blindsided by the malware in question. It is important to note that this malware mainly locks data located in the %USERPROFILE% folder, which in turn makes quite a few of your programs unusable. Every single file encrypted will be tagged with a .crypted extension. Unfortunately, manual decryption is not an option because your data is locked using a powerful algorithm. As soon as that is done, your desktop will be blocked with a ransom message. We urge you to refrain from abiding by dubious demands that you should carry out in return for decryption services. If you want to regain access to your files, we recommend using a hard drive backup; provided that you have one. Otherwise, you can use your shadow copies. It should be self-evident that you must remove Tyrant Ransomware without any hesitation. To do that quickly and easily use of detailed removal instructions below.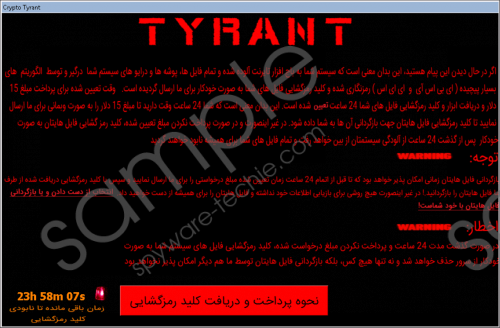 Tyrant Ransomware screenshot
Scroll down for full removal instructions
While Tyrant Ransomware is mostly targeted at users based in the Middle East, it is important to be aware of its existence because there is no guarantee that it would not hit users into other geographical locations. To have a fully secure operating system at all times, you must take a few steps to improve your virtual security. To lower the risk of coming across devious installers, you must practice safe browsing habits. We recommend downloading all of your software from official developers' websites at all times. By refraining yourself from unauthorized download sites, you will be able to avoid bundled installers, which are often hosted on such sites. Also, be sure to bypass all email attachments that come your way from unsuspecting third-parties because they could prove to be a part of spam email campaign used by cyber crooks for distribution purposes. Furthermore, we urge all users to learn as much as possible about the program that they want to have active on their PC. Doing this will allow you to avoid downloading a falsely advertised suspicious application. Finally, and most importantly be sure to install a reliable antimalware tool if you do not have one already because such a tool provides overall system security at all times.
Follow the comprehensive instructions that we provide below to delete Tyrant Ransomware entirely. Pay your full attention during the removal procedure since a single mistake could lead to an incomplete removal. It is critical to get rid of this malware entirely because its traces could act deviously. For example, leftovers of Tyrant Ransomware could be used to restore it silently. In other situations, traces of this malware could be enough for it to continue its malicious functionality. If you want to be sure that every sing bit of Tyrant Ransomware has been removed from your PC, you must double-check your entire operating system for anything related to Tyrant Ransomware rig after you are done with the instructions below.
How to remove Tyrant Ransomware from your PC
Open your File Explorer.
Navigate to C:\Users\(your username)\AppData\Local\Temp.
Right-click a malicious .exe file and then select Delete. The name of this filed can be random.
Navigate to C:\Users\(your username)\Downloads.
Right-click a malicious .exe file and then select Delete. The name of this filed can be random.
Right-click your Recycle Bin and then select Empty Recycle Bin.
In non-techie terms:
If you happen to find manual removal and analysis of your PC too complicated, do not worry. You can terminate this ransomware by using the alternative removal guide that we present below. By following these instructions you will be able to delete Tyrant Ransomware in an automated manner.