Do you know what TvNewTab is?
TvNewTab is a browser extension that supposedly can turn your own browsers into a TV media center. This program promises to help you watch TV directly from your computer, and because its services are free, more and more users are downloading it. Unfortunately, right when you download this program, you realize that it is worthless because, instead of fulfilling its promises, it provides links to paid media services, including Netflix and Amazon. In general, this program does not offer any beneficial services, and all of its promises are designed to trick you into installing it. Once installed, this program can collect information about you, and this information is invaluable to third-party advertisers. Unfortunately, your personally-identifiable information is at risk of being leaked if you keep this PUP (potentially unwanted program) on your PC. Due to this, we suggest removing TvNewTab ASAP.
Imali Media LTD is the creator of TvNewTab, and it is the creator of other potentially unwanted programs (e.g., MediaNewPage, SocialNewPage), as well as browser hijackers that follow these PUPs. This company has set up tvnewtab.com, a website page that provides the installer for this suspicious extension. Our research team has found that this website functions if you visit it via Mozilla Firefox; however, if you attempt reaching it via Google Chrome, you will be shown a page that mimics the Chrome web store, and any click will automatically redirect you to the real web store. At the time of our analysis, the Chrome web store counted over 52 thousand users, which is a lot. Another difference for Firefox and Chrome users is the name of the extension. Its name on Mozilla Firefox is "tvnewtab Extension 0.1.5" and "TVnewtab(Plus)" on Google Chrome. Besides this, these extensions are identical, and they act in the exact same manner.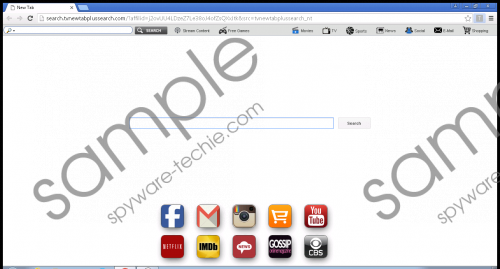 TvNewTab screenshot
Scroll down for full removal instructions
The Privacy Policy on the official website informs that personal information can be tracked by TvNewTab. Although it is stated that this information is not used to identify users, you do not know how third parties will use it, and they are likely to be able to use it because Imali Media shares information with undisclosed parties. Of course, most users are unaware of this because they do not analyze the Privacy Policy, especially if they acquire this extension packaged with other programs. According to our research, it is possible that you will be introduced to this program by third-party downloaders, and, depending on who control them, you could be exposed to Trojans, rogue security tools, and other kinds of malicious software. If you end up interacting with unfamiliar downloaders, make sure you decline all unfamiliar programs. At least, research them before deciding whether or not you need them on your operating system or browsers. An infection that always comes bundled with this PUP is a hijacker called "search.tvnewtabplussearch.com." This hijacker will redirect you to SafeFinder, an unreliable search tool that uses the Yahoo Search engine to show sponsored links. Of course, we strongly recommend deleting this hijacker as well.
You need to remove TvNewTab from your browsers, and we propose a way to eliminate this undesirable extension yourself. The guide below explains how to erase the unwanted extension from the browsers it was seen affecting, and that is all you need to do to eliminate the undesirable browser hijacker as well. You can eliminate this undesirable program directly from the computer, but the method presented below is the easiest, and you will handle it even if you are completely inexperienced. Now, when it comes to third-party malware that might enter your PC along with this PUP, you might have to handle its removal in different ways. Because malware is unpredictable, we suggest using automated malware removal software that can ensure the complete elimination of all unreliable programs.
Remove TvNewTab from browsers
Google Chrome:
Launch the browser and tap Alt+F to access a menu.
Select More tools and choose Extensions.
Find the unwanted add-on and click the recycle bin next to it.
Choose Remove and restart the browser.
Mozilla Firefox:
Launch the browser and tap Alt+T to access the Tools menu.
Choose Add-ons and move to the Extensions menu.
Find the unwanted add-on and click the Remove button next to it.
Restart your browser.
In non-techie terms:
TvNewTab is not considered an infection; however, it is a potentially unwanted program that does not offer any kind of beneficial services and that might put your virtual security at risk. We have found that this PUP can implement a browser hijacker and track personal information. Due to these reasons, we advise erasing this potentially unwanted program as soon as possible. If you do not want to install a reliable security tool, make sure you delete this PUP – and other threats, if they exist – manually.