Do you know what TuneFanatic.com is?
You might be offered to install TuneFanatic.com as a beneficial search engine that can provide you with news, reviews, videos, and similar content related to music. This search tool could also take over your browsers without permission, which means that it can act as a browser hijacker. Regardless of how this search tool enters your operating system, it deserves immediate removal. We also recommend deleting HealthcareGovTool, Super Optimizer, Shop Time, and other suspicious programs that might come bundled with TuneFanatic.com. Unfortunately, some users have no say regarding the software that enters their operating systems. Of course, you need to make sure that all threats are eliminated from your operating system, and we suggest removing TuneFanatic.com first.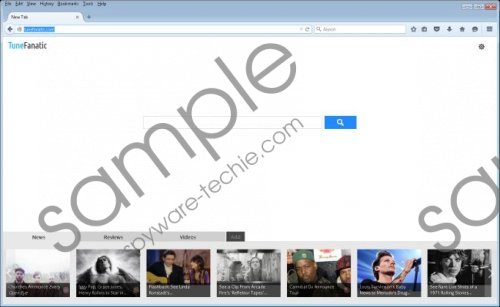 TuneFanatic.com screenshot
Scroll down for full removal instructions
If TuneFanatic.com has replaced your home page and Default-search.net has been set as the default search provider without permission, there is no doubt that your browsers are under an attack of a browser hijacker. Even though TuneFanatic.com is a relatively new threat, it is not that new, considering that it is just a clone of MoviesFanatic.com. This is another browser hijacker that users need to delete from their operating systems if it manages to slither in. Both of these search engines were created by Aztec Media, the company that is responsible for Linkey Project and Default-search.net as well. Even though it is unlikely that you will have to delete these infections from your PC with TuneFanatic.com, you must know how to identify them so that they could not attack in the future. Our objective is to inform you about malicious and unreliable programs so that you would know how to delete them and how to keep them away from your operating system in the future.
Even though TuneFanatic.com does not offer authentic search results (it redirects to Yahoo), it showcases links to third-party sites via the pictures attached at the bottom of the home page. Due to this, some users delete TuneFanatic.com as an advertisement-supported program as well. Needless to say, clicking on these links can be extremely risky because you cannot know what kinds of sites hide behind them. What if you are tricked into visiting malicious sites? We strongly recommend removing TuneFanatic.com to avoid unreliable links and stop suspicious tracking cookies from collecting information about you. Keep in mind that while the instructions below can help you delete TuneFanatic.com from browsers, you might also have to find and remove leftover files. If you cannot delete them manually, and authentic security tool will have them removed automatically.
Remove TuneFanatic.com
Remove from Internet Explorer
Launch the browser, simultaneously tap Alt+T, and click Internet options.
Click the General tab on the left, edit/delete the URL under Home Page, and click OK.
Simultaneously tap Alt+T one more time and select Manage Add-ons.
Move to Search Providers and Remove the undesirable search provider. Click Close.
Remove from Mozilla Firefox
Launch the browser and navigate to the Firefox search box in the top section.
Click the Search icon and select Change Search Settings.
Choose the desired search provider and Remove the undesirable search provider.
In the menu on the left click General and edit/delete the undesirable Home Page URL.
Remove from Google Chrome
Lunch the browser, simultaneously tap Alt+F, and select Settings.
Under On Startup mark Open a specific page or set of pages, and click Set pages.
Edit/delete the URL representing the undesirable search provider and click OK.
Navigate to Appearance, mark Show Home button, click Change, and repeat step 3.
Navigate to Search, click Manage search engines, and remove the undesirable search tool.
In non-techie terms:
TuneFanatic.com might look like a regular search tool, but, in reality, it is just another unreliable search engine that can be used to promote the links to third-party sites. It is likely that the developers of this browser hijacker earn money for promoting third-party content, but there are no guarantees that Aztec Media is not associated with cyber criminals, even if they do not know it. Use the removal guide above to delete TuneFanatic.com from your browsers and delete any leftover files. You can trust automated malware removal software to delete these leftovers.