Do you know what Tubetime Ads are?
If you have encountered suspicious and disruptive Tubetime Ads, a suspicious potentially unwanted program (PUP) must be active on your operating system. Our research has revealed that this suspicious piece of software is most likely to come packaged with other suspicious programs. These programs could be represented via malicious download sites. Are you cautious when installing software onto your computer? If you are not, it is only a matter of time before adware, hijackers, PUPs, and more serious infections find their way into your vulnerable operating system. Do you suspect malware to run on your PC along with the PUP already? Even if you think that is not the case, our research team advises running a full system scan to check for potential invaders. Needless to say, if a reliable malware scanner detects threats, you need to delete them from your PC as soon as possible. In this article, we discuss the removal of Tubetime Ads, and if you are interested in this, you should continue reading.
The suspicious Tubetime does not have an official download source, which is why it is believed that this potentially unwanted program is spread along with other programs by third-party software distributors. It is unlikely that this program would be installed onto your PC silently. On the contrary, you are more likely to be tricked into thinking that this PUP is a beneficial and reliable assistant. According to our analysis, this PUP is represented as a tool that allows watching YouTube videos directly from the Desktop. It should even help you search videos depending on the upload date, view count, rating, etc. When Tubetime starts, an icon appears in the task tray, and you might not notice it, but if you click the icon, a video-search window pops up. Overall, although this PUP might look useful, you should not trust it, primarily because of the suspicious Tubetime Ads that follow. Besides that, the program itself is not all that useful, and you can get better, more reliable services via youtube.com.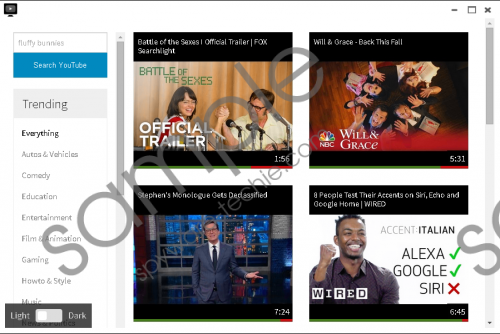 Tubetime Ads screenshot
Scroll down for full removal instructions
Have you discovered Tubetime Ads popping up? Interacting with them is not recommended because unreliable third parties might be hiding behind them. According to our research, tracking cookies could be used to record your activity and, possibly, help advertisers approach you with more personal offers. Whether these offers can provide you with good deals or are using interesting offers just to trick you into interacting with them is unknown, which is why you have to be very careful. Unfortunately, malware distributors and vicious schemers are often employing inconspicuous-looking advertisements to fool gullible users, and who can guarantee that Tubetime Ads cannot be represented by malicious parties as well? Even if you do not see advertisements, remember that the suspicious PUP could spy on you and leak information to unknown third parties.
If you come to a decision that you should delete Tubetime Ads-related software, you have to choose between manual and automatic removal. If you are more interested in the manual removal option, you have several options as well. For example, you can uninstall the PUP via the Control Panel, or you can follow the instructions below. We recommend utilizing anti-malware software instead because it can simultaneously erase all unreliable programs from your computer, which is very useful if other threats are active. Furthermore, it can also guarantee that your operating system is protected, and we are sure you understand just how important that is. If you have questions and concerns, or you simply want to discuss the PUP more, start a conversation in the comments section.
Remove Tubetime Ads
Simultaneously tap keys Win+R to launch RUN.
To access Registry Editor, enter regedit.exe into the dialog box and click OK.
Right-click and delete the keys/values named TubeTime after navigating to:

HKEY_CURRENT_USER\Software\AppDataLow\Software\
HKEY_LOCAL_MACHINE\SOFTWARE\Wow6432Node\Microsoft\Windows\CurrentVersion\Uninstall\
HKEY_LOCAL_MACHINE\SOFTWARE\Wow6432Node\Microsoft\Windows\CurrentVersion\Run

Simultaneously tap keys Win+E to launch Windows Explorer.
Enter %APPDATA% into the bar at the top to access the directory.
Right-click and Delete the folder named TubeTime.
Repeat step 6 after navigating to these directories:

%LOCALAPPDATA%
%APPDATA%\Microsoft\Windows\Start Menu\Programs\Startup\
%USERPROFILE%\Local Settings\Application Data\
%USERPROFILE%\Microsoft\Windows\Start Menu\Programs\Startup\
%ALLUSERSPROFILE%\Start Menu\Programs\Startup\
%ALLUSERSPROFILE%\Microsoft\Windows\Start Menu\Programs\Startup\
%ALLUSERSPROFILE%\Application Data\Microsoft\Windows\Start Menu\Programs\Startup\
In non-techie terms:
Interacting with Tubetime Ads might not be a good idea because they could represent unreliable offers and misleading links. If these advertisements are appearing, Tubetime must have been installed onto your computer. Even if this potentially unwanted program is not introducing you to suspicious ads, we advise removing it from your Windows operating system, and you can do that in several different ways. If you are more interested in manual removal, you will find the instructions above very helpful. Of course, if you take a deeper look at your virtual security, it is most logical for you to install anti-malware software that not only can automatically delete existing threats but also ensure full-time protection.