Do you know what trustedupdate.com is?
Trustedupdate.com is an adware server used by adware applications to promote other potentially unwanted apps. This server allows adware programs generate various pop-ups that make an impression user is offered to download media player updates. However, if you click trustedupdate.com pop-up ads, you will initiate automatic download of even more adware applications. Soon your computer will be swarmed with potentially unwanted and even dangerous applications. In order to avoid that, you need to determine which program is making use of trustedupdate.com server, and then remove it from your computer at once.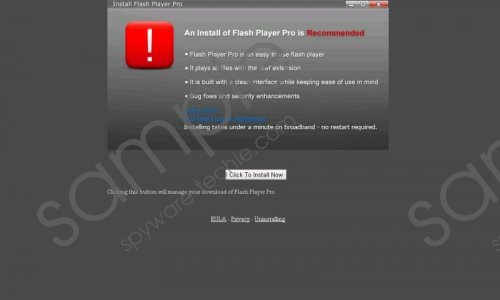 Trustedupdate.com screenshot
Scroll down for full removal instructions
Based on some security reports, TrustedWeb is said to be making use of trustedupdate.com, but that is definitely not the only adware program there is. Trustedupdate.com is known to be used by Pricemeter, Savings Wizard, Free Soft Today and many other adware applications that enter your system with intention to generate financial profit to their creators.
It is possible to encounter Trustedupdate.com while you browse the Internet even if you do not have any adware application installed onto your computer. If you visit an unsecure website, Trustedupdate.com might appear in a form of a pop-up. Clicking the pop-up you will be instantly redirected to trustedupdate.com/videoupdate. The pop-up will urge you to install a video player update that would allow you to watch videos in high quality:
Please install the new Video Player (RECOMMENDED)
Based on ffmpeg the leading Audio/Video codec library

Supports *.FLV, *.AVI, *MPEG, *.MKV, *.SWF and more

Super fast and super-friendly interface

100% Free & Safe – share it with friends
You definitely should not share whatever the player you are offered with your friends, because if you lick the INSTALL button you will download even more unwanted applications onto your computer. Trustedupdate.com distributes "Flawless codec" setup file that contains number of additional offers. If you install everything there is, as a result, you are bound to have Conduit Search, PC Speed Maximizer and other potentially unwanted applications installed on your computer.
After adware installation via Trustedupdate.com server, your browser will automatically open officialdownloads.net webpage offering you to download a flash player, but that obviously leads to even more adware being installed on your computer.
Adware applications have been created to generate financial revenue to the people behind them. They are not direct computer threats, but due to their low security levels, they can be exploited for malware distribution. That is why you need to refrain from clicking pop-ups delivered via Trustedupdate.com server. Close the website that displays Trustedupdate.com pop-ups right now and then run a full system scan.
A full system scan will help you find adware applications that are responsible for Trustedupdate.com ads. Uninstall programs to remove Trustedupdate.com pop-ups from your web browser and then get yourself a powerful antimalware tool that would ensure you do not get exposed to similar security threats in the future.
How to remove adware programs
Windows 8
Move mouse cursor to the bottom right of your desktop.
Wait for Charm bar to appear and then go to Settings.
Click Control panel and select Uninstall a program.
Highlight the program you want to remove and click Uninstall.
Windows Vista & Windows 7
Open Start menu and go to Control Panel.
Select Uninstall a program and remove adware applications.
Windows XP
Open Start menu and go to Settings.
Open Control Panel and select Add or remove programs.
Uninstall adware applications.
In non-techie terms:
Users should avoid annoying pop-ups and other adware applications, so it is for the best to close Trustedupdate.com window right now. If Trustedupdate.com server is utilized by an adware application currently installed on your PC, scan your system with antimalware scanner and remove the program in question immediately.