Do you know what Trustedsurf.com is?
If you ever open your browser and see that Trustedsurf.com has been set in the place of your default homepage and search engine, you can be sure that a browser hijacker infection has found a way to your computer. At first, you might not even notice that another search engine is set because Trustedsurf.com does not differ from decent search providers the way it looks, i.e. there is a search box on its main page, and it returns search results. To be honest, there is no point in judging the trustworthiness of the search engine from its appearance because it is often deceiving. In the case of Trustedsurf.com, it looks like a trustworthy search provider, but the truth is that it cannot be trusted. In other words, we believe that it would be best to remove Trustedsurf.com from browsers. If you have encountered a browser hijacker for the first time, it is very likely that you do not even know where to start to make it disappear. If is true, you should simply continue reading this article – we will talk about the deletion of a browser hijacker in it.
Trustedsurf.com is hosted on the same server as safesurfs.com, safebrowsing.biz, and esurf.biz, so we believe that it does not differ from these search engines, i.e. it is untrustworthy. Specialists consider this search tool an unreliable one because it shows the modified search results that promote third-party websites. Not all the websites Trustedsurf.com advertises can be fully trusted. It has been noticed that you might even end up on a website containing malicious software after clicking on one of those modified search results. Users who do not want to infect their systems with malware need to delete Trustedsurf.com from their computers ASAP. Of course, this is not the only reason you need to remove this browser hijacker from your computer. Our team of specialists has thoroughly tested Trustedsurf.com and found that it is also going to gather information about you. We are sure that it will do that unless you erase it from your PC, so you should hurry to make it disappear. Some users decide to do nothing because it seems that this search engine gathers insignificant information like search queries, websites visited, and other web browsing-related information. We agree that this information seems to be quite unimportant at first glance; however, the truth is that it might tell much about you, so you should keep it to yourself. The only thing you can do to make sure that Trustedsurf.com no longer collects information is to delete it completely from browsers.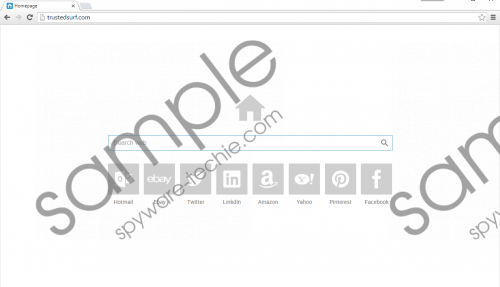 Trustedsurf.com screenshot
Scroll down for full removal instructions
Another browser hijacker might quickly enter your system again if you are not careful. Specialists say that these threats often come in bundles, and users do not even notice how they enter. Some of them inform in small letters that they are going to change homepages and search engines; however, Trustedsurf.com is not one of them. It is very likely that it will do what it has to do silently, and will not ask for permission to enter the system. What is more, it has been noticed that it will modify the shortcuts of browsers by adding http://trustedsurf.com/?ssid=[unique id] next to the original Target line in order not to be removed easily, for example, it you try to erase it, it will immediately revive again. Believe us; there are thousands of extremely annoying infections on the web. If you do not want to become a victim of malware again, you need to install a trustworthy antimalware scanner on your computer.
Fortunately, Trustedsurf.com will leave your browsers alone if you reset them. Of course, you will, first of all, have to restore the Target line it modifies. If you have never done that before, use our manual removal instructions you can find below this article. Alternatively, you can scan your computer with an automatic malware remover. If you cannot decide which tool to use, acquire SpyHunter and perform the system scan with it.
Remove Trustedsurf.com
Fix shortcuts
Right-click on the shortcut of your browser.
Click Properties.
Open the Shortcut tab by clicking on it.
Remove the line http://trustedsurf.com/?ssid=[unique id].
Click Apply.
Reset browsers
Mozilla Firefox
Open your browser and tap Alt+H.
Click Troubleshooting information.
Click Refresh Firefox.
Click on the Refresh Firefox button again.
Google Chrome
Open your browser and tap Alt+F.
Select Settings and scroll down.
Click Show advanced settings and then click Reset settings.
Click on the Reset button.
Internet Explorer
Open your browser and tap Alt+T.
Open Internet Options and click on the Advanced tab to open it.
Click Reset.
Mark the Delete personal settings box.
Click on the Reset button again.
In non-techie terms:
Even though you do not see Trustedsurf.com set on your browsers, it does not mean that your computer is perfectly clean. Specialists say that undesirable components or programs might still be hiding on your computer. To find them all, scan the system with the diagnostic SpyHunter version which can be downloaded from our website.