Do you know what TrumpHead Ransomware is?
TrumpHead Ransomware is a malicious application that is supposed to encrypt the victim's files. However, at the moment of writing the malware does not encipher any data, even though it has the capability to do so. Thus, it might be only a question of time till a fully-working version of it shows up. Therefore, we believe it is essential to discuss its working manner further in the text so users would know what to expect if they come across this threat. Also, it might be useful to know how to erase TrumpHead Ransomware. It can be deleted both manually and with automatic features. The removal guide available below will demonstrate how you could get rid of it manually, but we ought to stress, we cannot guarantee the instructions will work for everyone, as the malicious application might still change.
It is difficult to say whether TrumpHead Ransomware is being distributed or not. Nonetheless, considering it seems to be still in development it is possible it could be spread for testing purposes. Usually, such threats travel with Spam emails, malicious software installers, and so on. As a result, users who wish to protect their computers against them should keep away from files raising suspicion or originating from questionable sources. If you have doubts about the file's legitimacy, it is best to scan it with a reliable antimalware tool first. In case, the attachment or installer in question is not what it seems to be, the tool ought to detect it. On the other hand, if you rush and open it with no hesitation, the system might get infected, and all of your data could be in danger.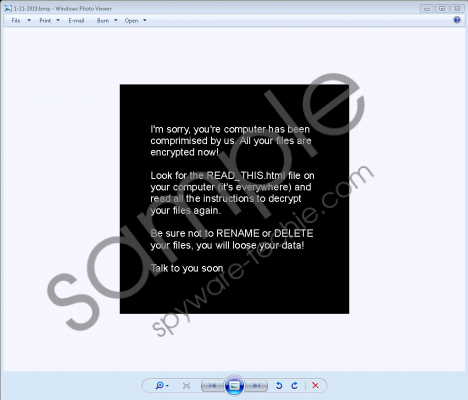 TrumpHead Ransomware screenshot
Scroll down for full removal instructions
If our tested TrumpHead Ransomware worked properly, it would have encrypted various pictures, documents, archives, and other similar data. Later, the malicious application was programmed to show a text document called READ_THIS.txt. According to our computer security specialists, it should ask the victim to contact the malware's developers and pay a ransom to decrypt his files. This particular sample did not create the described text document, but our researchers say it has the capability to do so. The price was 0.8 BTC, which is around 2800 US dollars at the moment of writing. Of course, the sum might get smaller or more significant if the cybercriminals release another version of it. Whatever it would be, we do not recommend paying it. No matter what the hackers promise there are no guarantees they will provide it, so if you do not want risk wasting your money, we advise removing TrumpHead Ransomware.
It is possible to eliminate TrumpHead Ransomware, but it might be a bit tricky, especially if the malware gets updated. What we are trying to say is that being in development means the malicious application could be still altered, and if so, the removal guide available below may no longer be complete. This is why it might be safer to use a reputable antimalware tool. All there is to do is do a full system scan and press the given deletion button.
Erase TrumpHead Ransomware
Click Ctrl+Alt+Delete simultaneously.
Pick Task Manager.
Take a look at the Processes tab.
Locate a process associated with this malicious program.
Select this process and tap the End Task button.
Click Windows Key+E.
Navigate to the suggested paths:
%TEMP%
%USERPROFILE%Desktop
%USERPROFILE%Downloads
Find a file launched when the system got infected, right-click the malicious file and select Delete.
Navigate to %TEMP%
See if you can find a malicious file that could be the launcher's copy, right-click it and choose Delete.
Then find a document called READ_THIS.txt, right-click it and choose Delete.
Close File Explorer.
Empty Recycle bin.
Restart the computer.
In non-techie terms:
TrumpHead Ransomware should encrypt the victim's data and delete all shadow copies, but fortunately, the current version does neither. Our researchers say it has the capabilities of a malicious file-encrypting threat but does not act this way yet because it is probably still in development. In other words, the hackers developing it have not finished it yet. Thus, we doubt it should be distributed widely. Still, if you do encounter it, we would recommend erasing it from the system. If it gets finished it might encrypt victim's files and show a ransom note asking to pay for their decryption. The problem is there is always a chance the malware's creators could seek to scam you. Meaning, they may promise you the delivery of decryption tools, but instead, they might take your money without keeping up to their end of the bargain. For this reason, we always advise against paying the ransom. It is best to restore data while using backup copies if you have any.