Do you know what TrueDownloader is?
TrueDownloader is a potentially unwanted application. You should think twice before installing such programs on your computer. It is true that TrueDownloader is not a malicious infection, but the question is whether you really need this application on your system. The program promises to manage your downloads, but it also comes with some additional features that you should not ignore. In some cases, TrueDownloader might function as an adware application. Adware programs often expose users to potential security threats, so the sooner you remove TrueDownloader from your PC, the better.
It is hard to convince some users that TrueDownloader is a potential system security threat because you can easily download the application at truedownloader.com. In practice, if a program has an official website and it comes with a working direct download link, it is not a malicious application. Once again, we feel the need to emphasize that TrueDownloader is NOT a malicious application, and it merely possesses that features that MIGHT be troubling. On top of that, sometimes the application may arrive at your computer bundled with freeware apps you download on a regular basis. That is to say; TrueDownloader could be included in a third-party installer that allows you to set up some application you have just downloaded.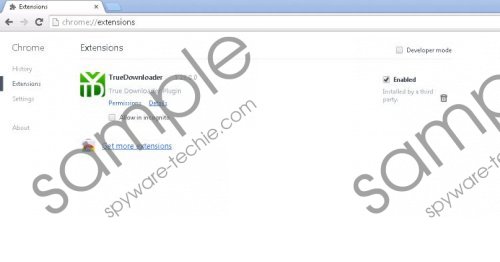 TrueDownloader screenshot
Scroll down for full removal instructions
As far as TrueDownloader's functions are concerned, it promises to speed up your download speed and easily manage your downloads. However, you have to remember that this application gets distributed for free. This means that it needs to support itself somehow, and it does that by displaying commercial advertisements. Consequently, in order to display commercial ads TrueDownloader needs to collect information on your web browsing habits. Usually, such programs collect personally non-identifiable data, but even so, this information could be leaked for online marketing purposes, and eventually you could be exposed to other adware applications.
In other words, potential computer security issues that are associated with TrueDownloader by far outweigh the program's beneficial features, and you should not keep any program on your computer if there's even the slightest chance that it could lead to various security-related problems.
Open Control Panel and uninstall TrueDownloader manually. If you think that there might be more unwanted programs on your PC, run a full system scan with a licensed antispyware tool. A thorough system scan will help determine the actual state of your system's security. If more unwanted programs are found, remove them all immediately and acquire a powerful computer security application. Also, for any further questions, you can always leave us a comment.
How to delete TrueDownloader
Windows 8
Drag mouse cursor to the bottom right of your screen.
Click Settings on Charm bar and go to Control panel.
Select Uninstall a program and remove TrueDownloader.
Windows Vista & Windows 7
Open Start menu and click Control panel.
Go to Uninstall a program and remove TrueDownloader.
Windows XP
Click Start menu button and navigate to Control panel.
Open Add or remove programs and uninstall TrueDownloader.
In non-techie terms:
TrueDownloader is a program that could be used by cyber criminals to collect data on what websites you visit. Although this application seems to have a useful function, computer security experts recommend against keeping it on your PC. Remove TrueDownloader right now to protect your PC from harm.