Do you know what Tronzolo Deals is?
Tronzolo Deals is a potentially unwanted application that is developed by SuperWeb LCC. It means that Tronzolo Deals works just like Cling Clang, SugarSearch Ads, Rock Turner Ads and a number of other applications from the same family. Consequently, you are advised to remove Tronzolo Deals from your computer, because this application functions as adware by collecting data on your web browsing habits and then displaying a lot of annoying commercial pop-ups. By removing Tronzolo Deals from the system, you would be protecting yourself from potential system security issues so do not hesitate to do that.
The main homepage for Tronzolo Deals is located at tronzolo.co. Technically, you should be able to download the application at tronzolo.co, but none of the SuperWeb adware applications are available for download at their homepages. Thus, we can see that Tronzolo Deals arrives at your computer bundled with freeware, and you are the one who installs this program onto the PC. You may not even notice that you have installed something new until pop-up ads appear on your browser's screen when you access online shopping websites.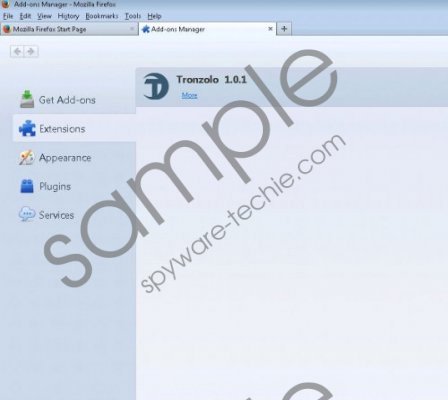 Tronzolo Deals screenshot
Scroll down for full removal instructions
Tronzolo Deals supports an extensive number of online shopping malls. It means that when the application gets installed on your computer, it also adds an extension to your main browser and then it starts collecting information on your web browsing habits. Tronzolo Deals extension is compatible with Mozilla Firefox, Google Chrome and Internet Explorer web browsers. Once the application has collected enough data to generate your online profile, it will start displaying pop-up ads that will be related to what you search for online. It is supposed to make you click the ads, but you will know better not to do it.
Clicking on Tronzolo Deals ads may redirect you to affiliated third party websites to increase their traffic. It helps the creators of Tronzolo Deals earn money, and it is not an illegal practice, but we should not forget that such adware applications can be exploited by malicious third parties to distribute their content. Therefore, by clicking the pop-up ads delivered by Tronzolo Deals you could land on a corrupted website that will make you participate in a suspicious online marketing survey. In the most extreme situation you might also get infected with malware as well!
Thus, to avoid any disastrous consequences you need to remove Tronzolo Deals right now and then scan the system with SpyHunter free scanner to determine what other potentially unwanted applications might be installed on your PC. Please leave a comment if you have any further questions.
Uninstall Tronzolo Deals
Windows 8
Slide mouse cursor to the bottom right of your desktop.
Wait for Charm bar to appear and then click Settings.
Go to Control Panel and select Uninstall a program.
Click Tronzolo and press Uninstall.
Windows Vista & Windows 7
Click Start menu button and select Control Panel.
Go to Uninstall a program and remove Tronzolo.
Windows XP
Open Start menu button and click Control Panel.
Select Add or remove programs and uninstall Tronzolo.
In non-techie terms:
You are strongly recommended to uninstall Tronzolo Deals, because this adware application presents a variety of computer security issues that need to be tackled immediately. Also, invest in a reliable antimalware tool to safeguard your PC from harm.