Do you know what Trojan.Ruftar is?
Trojan.Ruftar is a ransomware which uses RSA encryption to encrypt personal files found on the operating system without a way to restore them unless you have private and public keys. These keys are stored on remote servers, and in order to retrieve them you are likely to be asked for money, which explains why we categorize the Trojan as a ransomware. The clandestine threat runs and attacks silently; however, we have no doubt that you need to delete Trojan.Ruftar if you have discovered that personal files are now presented with the extension contact@casinomtgox.com. This is an email address supposedly allowing you to access the so-called 'customer support'. We do not recommend contacting schemers or paying any ransoms; nevertheless, you should delete the Trojan from the PC urgently.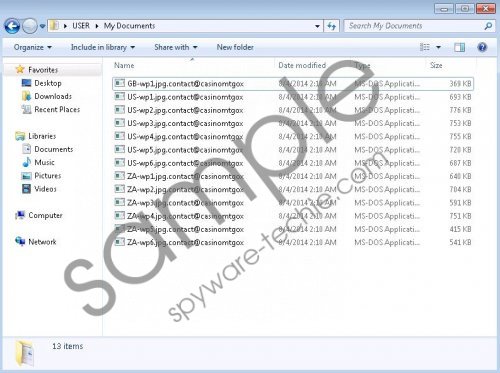 Trojan.Ruftar screenshot
Scroll down for full removal instructions
Malware researchers warn that Trojan.Ruftar can corrupt files with the extensions .mpeg, .mov, .pdf, .xlsm, .key, .odt, .ppt, .xlsx, .1cd, and so on. If you allow the Trojan to enter the operating system, you will not be able to open videos, images and documents found on the PC because they will be encrypted. Attempts to open these files will be fruitless, and when you restart the PC, a pop-up message suggesting that you need to contact a provided email (contact@casinomtgox.com) for further instructions will show up. Since the Trojan works just like Trojan.Ransomcrypt.L, which also requires removal, there is no doubt that you will be asked to pay money for the aforementioned keys. Even though it is stated that these keys will help you decrypt tiles, there are no guarantees. Nonetheless, we can guarantee that you will impose more threats if you do not remove Trojan.Ruftar from the operating system.
Even if you cannot salvage your own files, it is important you remove Trojan.Ruftar without further delay. This clandestine ransomware can continue encrypting files; however, it could also be linked to other devious activity, including malware infiltration and private data collection. Manual Trojan.Ruftar removal is not recommended to anyone, even if you are experienced. Install automatic malware removal software now, and all devious infections running on the PC will be deleted successfully.
In non-techie terms:
The clandestine Trojan.Ruftar may corrupt the operating system without any warning and then take down personal files. In order to restore them you will be asked to pay a ransom, and malware researchers do not recommend doing this for security reasons. Keep in mind that if you do not pay the ransom, the files will remain encrypted. We suggest using automatic malware removal software to delete Trojan.Ruftar from the PC, and the instructions presented below can assist you with this task if any obstacles arise.