Do you know what Trojan.LockScreen.EM is?
Trojan.LockScreen.EM is a Trojan infection that locks your screen, displaying a fake notification. It is not a ransomware application because it does not ask for any ransom fee. It belongs to a Screenlocker family that does not allow you to access your desktop, but it does not ask for money. It is necessary to remove Trojan.LockScreen.EM from your computer if you want to continue using it properly. Please scroll down to the bottom of this article for manual Trojan.LockScreen.EM removal instructions, and do not forget that you most probably have more unwanted applications on board.
When you get infected with this Trojan, it displays a screen-sized image that says "THE PEOPLES REPUBLIC WELCOMES YOUR ALLEGIANCE." Then it loads another screen image that says you have 3 new backdoor infections detected, then a Zulu program, and that your system is extremely vulnerable. Upon the installation, Trojan.LockScreen.EM drops one file called DragonDay.exe into the ProgramData directory, and it adds two new registry values into Windows Registry, that makes the Trojan run automatically each time you turn on your computer.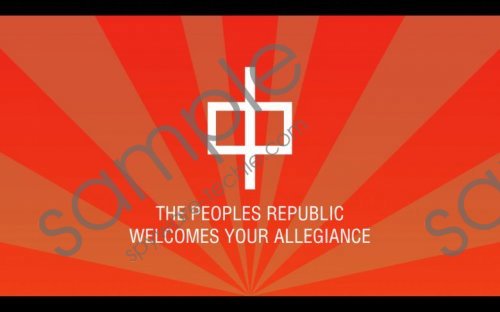 Trojan.LockScreen.EM screenshot
Scroll down for full removal instructions
There are many variations of this Screenlocker Trojan. It is clear that this malicious infection enters your computer behind your back. Trojans often arrive at target systems pretending to be something they are not. You need to be careful when you browse unfamiliar websites because very often websites the distribute freeware might display pop-ups that belong to the Trojan.LockScreen.EM distribution network. You may not even realize that you trigger Trojan's installation when you click on a random download button at a file-sharing website, but it is necessary to be aware of the potential threats that are present out there.
Needless to say, Trojan.LockScreen.EM is very frustrating because it blocks you from accessing your files, but at least the application does not hide from you and does not run in the system background. When you see that you are infected with Trojan.LockScreen.EM, you can take counter measures immediately.
It is not recommended to remove Trojan.LockScreen.EM manually, unless you are an experienced computer user. Messing with Windows Registry might result in ultimate system failure, so you should better leave that to the professionals.
You can reboot your system in Safe Mode with Networking and then get yourself a reliable antispyware application that would help you terminate all the malicious infections automatically. For any further questions, please do not hesitate to leave us a comment.
How to remove Trojan.LockScreen.EM
Windows Vista & Windows 7
Restart your PC and tap F8 when BIOS screen disappears.
Select Safe Mode with Networking and press Enter.
Access http://www.spyware-techie.com/removal and click Save File.
Install SpyHunter and run a full system scan.
Windows XP
Reboot your computer and press F8 several times to load Advanced Boot Options.
Select Safe Mode with Networking and press Enter.
Click Yes on the confirmation box.
Go to http://www.spyware-techie.com/removal and download SpyHunter.
Install the program and scan your PC.
Windows 8
Press Windows key to load metro Start menu.
Click Internet Explorer tile and load the browser.
Enter http://www.spyware-techie.com/removal into the address bar and press Enter.
Download SpyHunter and launch a full system scan.
In non-techie terms:
Trojan.LockScreen.EM is a malicious application that infects your computer and denies desktop access. Unless you remove Trojan.LockScreen.EM from the system, you will not able to operate your PC. Please refer to the instructions below for the more detailed description on malware removal. Protect your system from harm by investing in a licensed antispyware tool.