Do you know what Triple Pose is?
The only thing that you must know about Triple Pose is that its removal is essential. Even though, Triple Pose is advertised as a useful tool that should enhance your web browsing experience, in reality, it will not do anything like that. The only thing that this invasive adware program is capable of is presenting you with worthless ads and pop-ups, which, in fact, will ruin surfing the web for you. Malware experts at Spyware-Techie.com advise you to remove this adware from your PC once it is located on your operating system as it does not hold any beneficial features. We provide a detail removal guide, which should be used immediately.
It has been discovered that Triple Pose is a whole new installment of the infamous Super Web LLC group as it has been reported to come out just a few days ago, to be precise it came out on the 21st of March 2015. Super Web LLC is known for developing numerous intrusive adware programs such as Between Line, Traxxen, SqureTrace, Primary Result and quite a few others. All of the mentioned program function in a relatively the same way and so does Triple Pose. The major indication that Triple Pose is active on your operating system is a web browser flooded with various third-party commercial ads and annoying pop-ups. Due to this activity surfing the web will be dreadful, to put it mildly. A thorough removal of Triple Pose is a must if you wish to restore the normal functionality of your web browser.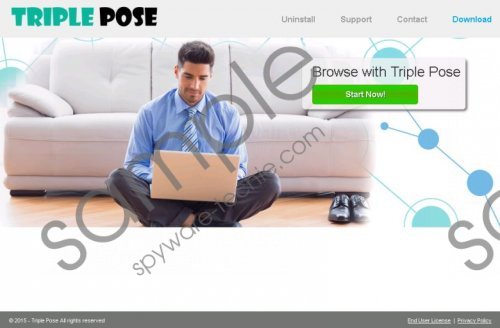 Triple Pose screenshot
Scroll down for full removal instructions
The annoying activity cause by Triple Pose is not the main reason Triple Pose must be removed. Malware researchers at Spyware-Techie.com have discovered that in some cases users might come across ads with redirect links within them. Thus, by clicking on an ad provided by Triple Pose you risk of exposing your operating system to suspicious third-party web content as you could be landed on a website, which promotes malware. It should be obvious that this is the reason you should not click on anything that Triple Pose provides you with and why removal of this invasive adware program is so important.
The removal guide crafted by malware experts at Spyware-Techie.com is easy to use and nearly every computer user should be able to execute it with no major problems. Make sure to check your PC for potential Triple Pose leftovers in order to make sure that not a single file or registry entry associated with this adware is present on your computer.
How to delete Triple Pose from your operating system
How to delete Triple Pose from Windows Vista and Windows 7
Tap the Windows key on your keyboard.
Select Control Panel and then click Uninstall a program.
Right-click Triple Pose and select Uninstall.
How to delete Triple Pose from Windows XP
Click the Start button.
Select Control Panel.
Click Add or Remove Programs.
Double-click Triple Pose in order to remove it.
How to delete Triple Pose from Windows 8
Move the mouse pointer to the lower-left corner of the screen.
Right-click and then select Control Panel.
Click Uninstall a program.
Select Triple Pose and click Uninstall.
In non-techie terms:
In some cases users might to want to analyze their system for potential leftovers of Triple Pose as it could turn out to be quite tricky. If you are one of those users, please follow the instruction that we provide below as it will guide you through an automatic removal process.