Do you know what Trick-Or-Treat Ransomware is?
So far, researchers are still not sure whether Trick-Or-Treat Ransomware is a poorly developed test version or a fake ransomware application. The program's message claims it encrypted user's files, but in reality, the malware does not ruin even a single record or demand to pay a ransom. In other words, the threat should not cause you any trouble. Apparently, all you might get from it is a window with a picture that may look scary for some users. Thus, instead of advising you not to contact the malicious program's developers and consider your options carefully, we recommend erasing Trick-Or-Treat Ransomware immediately. There is no point in keeping it, and as you will learn if you check the removal guide added at the end of the article, the deletion process is not as tricky as you could have imagined.
In the rest of the article, we will discuss Trick-Or-Treat Ransomware's working manner, possible distribution methods, and other vital details. Let us start from the ways this malicious program could be spread among computer users, although we are not entirely sure if anyone received it yet. Often, malware designed to encrypt users data comes with Spam emails, malicious installers, sneaks in by exploiting system's vulnerabilities, etc. Given the infection is poorly developed we do not think its creators would put a lot of effort in its distribution, so if you came across this threat, it probably happened because you carelessly opened a questionable file sent via email or downloaded it from a harmful website. Either way, the smartest thing to do would be to learn from this experience and do all you can to strengthen the computer and keep away from threats in the future.
The malware's window should be opened right after the user executes the file carrying Trick-Or-Treat Ransomware. Fortunately, it does not go full-screen or locks the screen to make it more difficult to close it. On the contrary, our researchers say the malicious program's window is easy to get rid of because it provides a working X button. There is not much information on it as it mainly states the malware encrypted your data. The text that is saying it is written in red and displayed on a black background. Moreover, on the right side of the window, there should be a particular picture, probably supposed to look scary. Just slightly below it, there is a "Decrypt My File's" button, although it does not and could not do anything since the threat does not encrypt any files.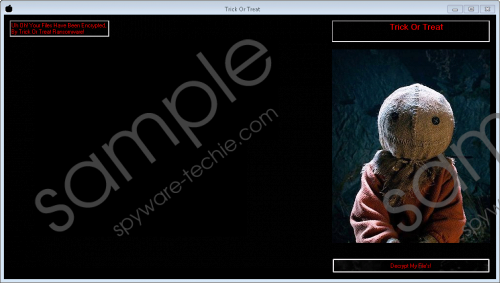 Trick-Or-Treat Ransomware screenshot
Scroll down for full removal instructions
It is rather typical for test versions not to ask for ransom or ask for a ridiculously huge amount of money without explaining how to make a payment, but usually, such threats can encrypt user's files. Therefore, Trick-Or-Treat Ransomware's inability to encrypt data makes us wonder if the application was created to extort money from its victims at all. In any case, if this malware settled in on your computer, you should not leave it unattended even if it does not do any harm.
The best part is the malicious program does not create any new data, which means to eliminate it you just have to find its installer and erase it. Different users could download such a file in various folders; consequently, we cannot tell you its exact location. Nevertheless, we will list a couple of possible directories in the removal guide available below, so if you require any assistance with Trick-Or-Treat Ransomware's deletion, you could use these instructions.
Eliminate Trick-Or-Treat Ransomware
Close the malware's window.
Press Windows Key+E.
Check these directories:
%TEMP%
%USERPROFILE%\desktop
%USERPROFILE%\downloads
Find the malicious program's installer.
Right-click the file you suspect and choose Delete.
Leave File Explorer.
Empty your Recycle bin.
Reboot the system.
In non-techie terms:
Trick-Or-Treat Ransomware is quite an unusual ransomware application because it does not encrypt any data or ask to pay a ransom in order to decrypt them. It could be that the hackers who came up with it released an unfinished version. We cannot say if this test version could be updated, but even if it was, there is a chance it could have a completely different name. Also, it is difficult to say if the malware is yet being distributed, but if it is and you did come across it, we advise you not to waste any time with it and get rid of the threat manually with the removal guide available a bit above this paragraph.