Do you know what Trezaa is?
Although Trezaa promises to enhance your browsing experience by adjusting web address errors, showing shopping deals, and comparing shopping prices, we classify it as an advertising-supported app that requires immediate removal. The only concern for this program is to display as many beneficial ads as possible. Unfortunately, this does not mean that you will benefit from interacting with these ads. No, it is the creator of this adware and the third-party advertisers that will benefit from this. Because of this, we do not recommend installing this program from trezaa.com or any other source. Have you downloaded this program from a third-party source? Maybe bundled with other strange, unfamiliar programs? If that is the case, you also need to inspect your operating system to make sure that malicious infections have not slithered in without your notice. If you find malware, eliminate it as soon as you delete Trezaa.
"Ads by Trezaa" advertisements will show up whenever you shop online (e.g., on ebay.com). This ad-supported program will regularly inject pop-ups to show you more attractive deals, but clicking on them will not necessarily help you save money. In fact, these deals might be fictitious, and they might be used to introduce you to other content, including malware installers. Although we do not state that the developer of Trezaa is associated with schemers and cyber criminals, we know that malicious parties often exploit vulnerable programs and software based on pay-per-click systems. The ads are created by a process that you can disable using Task Manager. Of course, unless you eliminate the file controlling this process, as well as all other files that belong to this adware, you will not stop the flooding ads. It is notable that all ads related to this adware will show up with a question mark icon. If you click it, you will be rerouted to a page that supposedly can help you "Learn More about Trezaa Advertisements."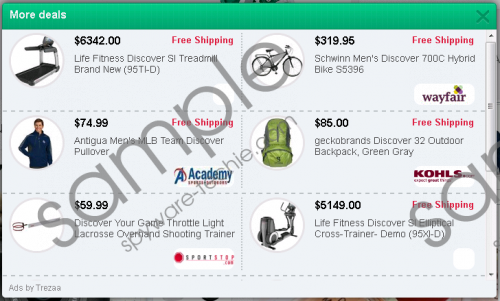 Trezaa screenshot
Scroll down for full removal instructions
Users are provided with the "Opt out" option when they click the question mark attached to the ads shown to them. According to our research, it is unlikely that this works, and, although it is said that the services would be terminated within 4-6 hours, it is most likely that the annoying ads will continue flooding. The ads are annoying, but you can ignore them. What you cannot ignore are the cookies that will be installed without your notice. Thankfully, the cookies can be eliminated from the computer, but not many computer users will do that because cookies are silent, and they do not attract attention. In reality, cookies can record information that you might want to keep to yourself. Considering that unreliable parties could have access to the information collected by these cookies, it is important to take them seriously. We suggest eliminating them along with Trezaa.
If you have let in Trezaa, your operating system might be unprotected. If that is the case, you should consider installing reliable security software right now. First of all, much more malicious threats are traveling across the web, and it is only a matter of time before one of them slithers in and creates a real mess. Second, a reliable security tool can get rid of the infections currently present on your PC. Up-to-date anti-malware software can successfully clean your PC from adware, potentially unwanted programs, silent Trojans, cookies, keyloggers, and all kinds of other threats that you want destroyed. We do not want to discourage you from manual removal, but if you implement the necessary anti-malware software now, you will not need to follow the instructions below.
Uninstall Trezaa
Windows 10 and Windows 8
Launch RUN (tap keys Win+R), type Control Panel, and click OK.
In the Programs menu navigate to Uninstall a program.
Right-click and Uninstall the program you have decided to eliminate.
Windows 7 and Windows Vista
Click the Windows logo on the left of the Taskbar.
Open the Control Panel menu and move to Uninstall a program.
Right-click the app you want to eliminate and click Uninstall.
Windows XP
Move to the left of the Taskbar and click the Start button.
Open Control Panel and double-click Add or Remove Programs.
Identify the unwanted program, select it, and click Remove.
Delete the leftover files
Launch Explorer by tapping Win+E keys.
Enter %ALLUSERSPROFILE% into the address bar.
Right-click the Trezaa folder and select Delete.
Launch RUN by tapping Win+R keys and enter regedit.exe to access the Registry Editor.
Move to the path HKLM\SOFTWARE\Wow6432Node\Microsoft\Tracing.
Right-click and Delete these keys: Trezaa_RASAPI32, Trezaa_RASMANCS.
In non-techie terms:
Removing Trezaa is not necessarily crucial; however, if you do not want to face suspicious ads that might route you to malicious websites or if you do not want silent tracking cookies recording information about your activity, you should get rid of this advertising-supported program. Even if you have successfully opted out, you still need to check your PC for leftovers. The guide above shows how to erase this adware from your Windows operating system. If you have questions, start a discussion below. As you can see, we have also attached an alternative guide that might help you in case more malicious threats have invaded your operating system and made it impossible to implement anti-malware software.