Do you know what Travel Output is?
We want to inform you that Travel Output is an adware-type program that displays unreliable and sometimes potentially dangerous advertisements. Above all, this application is simply obnoxious, so you probably want to remove it as soon as possible. However, we recommend that you take the time to know more about this application, because there are many like it and all of them work in pretty much the same manner.
It is no surprise that this silly-named adware program has been created by the one and only – SuperWeb LLC. This adware developer has been rolling out adware applications for several years now. It has released so many of them that this exact number is unknown. However, our researchers try to find every program out there. The reason why this developer has released so many programs is simple. It releases the same application over and over again, but with a new name and, of course, new advertisements. Our researchers have discovered many SuperWeb adware apps in the past, but the most recent clones that are still out there have names, such as Twinkle Star, Snapsearch, Happy Cloud, Walermis, Web Layers, and a few other applications. It is interesting to note that all of the previously mentioned programs, including Travel Output, have dedicated websites. The star of this article has a website at Traveloutput.com. Nevertheless, SuperWeb's websites are kind of pointless, because the download button is present, but does not work.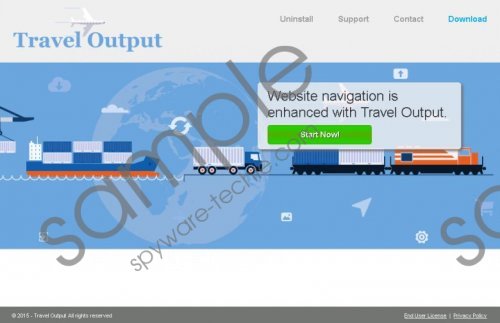 Travel Output screenshot
Scroll down for full removal instructions
The only way your computer can become infected with Travel Output is if you download and install software bundles from free software distributing websites. The Internet is full of websites such as these. For example you can get Travel Output is you download software from websites, such as Software.informer.com, Softpedia.com and so on. However, freeware distributors have some sort of obligation to allow users to opt out the installation of additional content, but most users do not take the time to carefully go through the installation process. One way you can save yourself the trouble of cleaning your computer of malware is to avoid installing it by selecting advanced installation settings and removing the unwanted programs.
As an adware program, Travel Output is bound to display a lot of different kinds of ads. We have seen this application display coupons, banners, video ads, and even search related advertisements that are displayed right in the search results of Google, Yahoo, and so on. You ought to delete Travel Output, because the content it promotes is sometimes misleading. It can display fictitious banners that pose as system messages claiming that your PC is about to crash. Do not believe in such warning for one second. It is just a clever scheme to make you download a rogue or potentially unwanted application that will try to get your money. Of course, this adware program can promote all kinds of schemes, but some ads are legitimate and pose no threat.
In any case, no one wants to be annoyed with unasked-for commercial content, which is not endorsed by the application's owners and might even promote misleading content. So Travel Output can display all kinds of ads that can be misleading and legitimate. The very nature of all adware applications is intrusive, so we suggest that you remove Travel Output right now and enjoy an ad-free browsing experience.
How to uninstall Travel Output from your computer
Windows 8 and 8.1
Navigate the mouse to the lower left corner of the screen.
Right-click on the Windows logo.
Click Programs and Features.
Locate Travel Output.
Right-click on the application and then click Uninstall.
Windows Vista and 7
Navigate the mouse to the lower left corner of the screen.
Open the Start menu and go to the Control Panel.
Click Uninstall a program.
Locate Travel Output.
Right-click on the application and then click Uninstall.
Windows XP
Navigate the mouse to the lower left corner of the screen.
Open the Start menu and go to the Control Panel.
Go to Add or Remove Programs.
Locate Travel Output and click Remove.
In non-techie terms:
Travel Output is yet another adware program developed by the infamous SuperWeb Company. Like all SuperWeb products, Travel Output has been created to display commercial advertisements that you probably do not want to see. You can only install this application by installing software bundles, since it has no other means of distribution. If you want to remove Travel Output please follow the instructions that have been prepared by our malware research team.